It's three days till rent's due and you're $250 short. You're starting to really stress out about it, knowing how it makes you feel to not be able to pay your bills on time. You can't borrow from Mom or Dad again. Your landlord doesn't want to hear any more of your excuses.
What can you do?
Well, fast payday loans are one option that can help you get through that rough patch financially, allowing you to borrow that $250 today and repay it when you get your next paycheck.
Sounds pretty great, right?
Payday loans have mixed reviews, but for many people living paycheck to paycheck, doing the best they can financially, sometimes guaranteed payday loans are necessary – and a godsend.
Listen, if you're struggling financially and need that occasional small loan or quick cash, you may want to learn more about payday loans online. The following is a detailed, step-by-step guide that will help you understand just how you can get payday loans.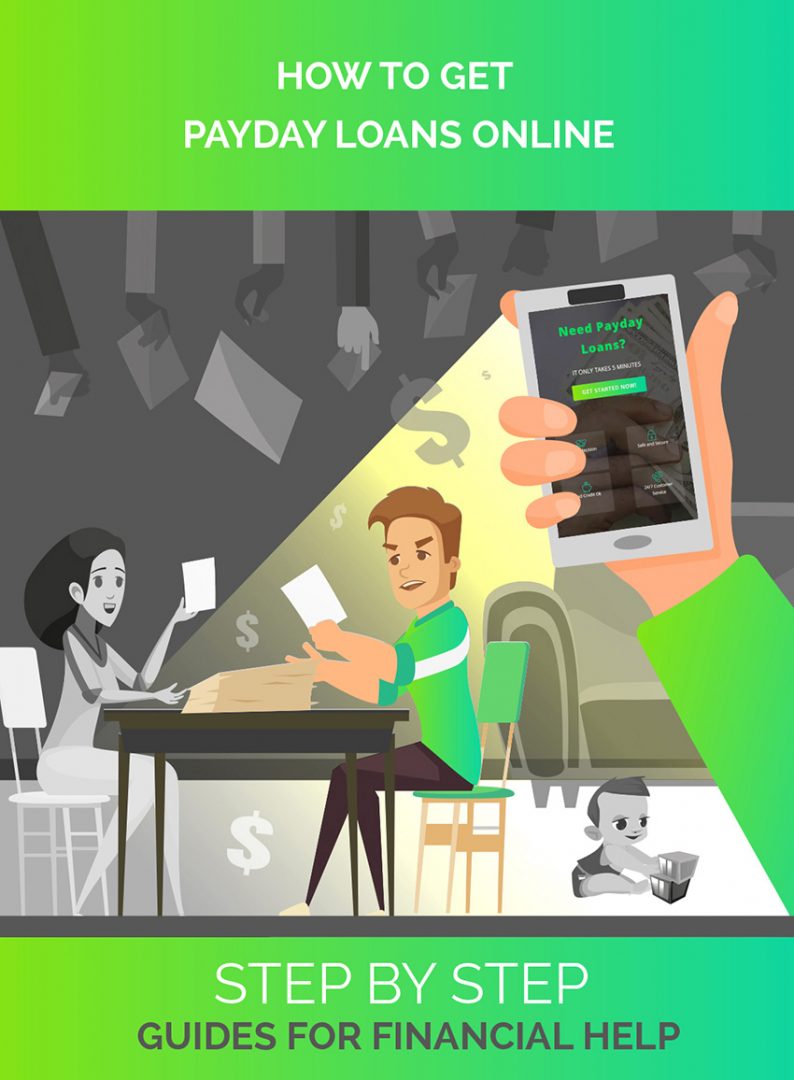 What are Payday Loans?
Payday loans are short-term loans by direct lenders who loan out usually between $100 and $500 to those in need. These instant payday loans are to be paid back at the time the person gets their next paycheck – usually between one and four weeks.
How Do Payday Loans Work?
Payday loans can certainly help you get through a rough financial spot.  If you're in need of a small loan to get you through till your next paycheck, you can apply for a fast payday loan using your next paycheck as security.  Even if your credit is lacking, you may still qualify for this type of online loan because the lender has measures in place to be sure they're going to get that money back from you.
If you're approved for the payday loan, you give the lender your banking information and a postdated check for the day after you get your next paycheck. Once you're paid, the lender deposits your check and your debt is considered paid in full.
Who Uses Payday Loans?
A variety of people use payday loans, as many people tend to live paycheck to paycheck. At the same time, unexpected things happen that can drain a savings account in no time. From HVAC's breaking to the engine in the car malfunctioning to unexpected medical costs, there's ample opportunity to need money fast.
According to CareerBuilder, about 78 percent of workers in the U.S. live paycheck to paycheck. That's a lot of people, and they're in every income bracket. In fact, it's estimated that 10 percent of people that make over $100,000 live paycheck to paycheck. It seems it's not just about how much money one makes that might put them in the "need money now" category.
Rather, it tends to be that they may bite off more than they can chew finance-wise – or they hit challenging financial times, such as medical bills, student loans, etc.
What Are The Fees To Get Payday Loans?
Payday loans are not free, as lenders charge interest and fees just like other loans. The Consumer Financial Protection Bureau states that most lenders will charge you from between $10 and $30 for every $100 you borrow. This is a doable fee for most people, but keep in mind that if you don't repay the payday loan within the scheduled time, the fees will continue to add up until you do.
The Pros and Cons of Payday Loans
The Pros Of Payday Loans
If you talk to people who have used guaranteed payday loans before, they'll tell you that the biggest pro of the loan was being able to secure funds fast for whatever their needs were at the time. Having peace of mind to be able to pay the bills or get whatever was necessary is quite valuable to people.
They Are Easy To Access. Another pro for fast payday loans is being able to qualify for them easily. They're readily accessible online and within a few minutes filling out the necessary information, you can have a payday loan.
There Are Fewer Requirements. You can spend just a little time answering payday lender questions online and get approval for your payday loan. There are actually very few requirements.
There's No Credit Check. If you have no credit or poor credit, you're still able to get a payday loan. Most payday loan companies aren't even going to do a credit check on you. For those that are undergoing financial strain, this is a godsend. And, by them not doing a credit check, it doesn't hurt your credit score at all.
It's An Unsecured Loan. A payday loan is an unsecured loan. This means that the loan is not secured by any type of property collateral like you see with other loans.
The Cons Of Payday Loans
As with any loan, there are cons that may or may not weigh out the pros. However, for most people, the pros of a payday loan are greater than the cons.
They're Expensive. The primary con with fast payday loans is that they can be expensive when it comes to fees. Most payday loan lenders are going to charge you between $10 and $30 per $100 that you borrow. This might not sound like a lot, but in annual percentage rates (APR), you could be paying 300, 400, or 400 percent – and that's a lot!
They're Considered Predatory. Some people think that payday loan lenders are predatory in nature, assuming that they prey on those that are struggling financially. While the truth is that those in need of payday loans are likely going through a rough patch financially, it's not necessarily true that payday loan lenders are preying on them. They're offering a service – and oftentimes a necessary service to those in dire need of money to make rent, pay insurance, buy food, etc., before their next paycheck.
It's Easy To Get Trapped In A Debt Cycle. If you use a payday loan occasionally, that's one thing. However, if you're using them over and over, you could get trapped in a debt cycle.  Living paycheck to paycheck can be stressful, as financial problems simply cause anxiety. Piling up more debt through payday loans won't solve your financial problems.Use them if you must, but also start digging to see what's going on in your financial picture and begin to make some changes to begin digging out of debt. It's one thing to use payday loans if you're going through a rough money patch, but you'll benefit by learning good finance skills, so you don't have to keep borrowing money.
Access To Your Bank Account. Some lenders will require your banking information. By getting a payday loan, you're giving a company access to your bank account. Granted, this may be necessary to get the loan, but if your bank account information falls into the hands of shady people, you could be facing some headaches down the road.
They Don't Help You Build Credit History. Payday loans don't do anything to help you build your credit.  Other loans options can at least help youbuild your credit, such as credit cards or a personal loan – as long as you pay them back.
Steps To Take Before Applying Payday Loans
Consider Your Other Options
Before applying for an online payday loan, there are some other options you may want to check out.
By using payday loans online as a last resort, you are giving yourself the opportunity to learn how to budget better and tackle the financial difficulties you may be having.
The following are some alternatives:
Use a credit card for times where you need that emergency money
Work extra hours or pick up a second job to help increase income
Get your credit score up so you can borrow from a lender that offers lower interest
Start anemergency stash in savings account for times you need that cash
Go to your bank and see if you qualify for an unsecured loan
Ask a family member or friend for a short-term loan
Sell some things that you don't need and use that cash
Ask your employer for an advance
Call the company and ask for an extension on whatever it is you owe them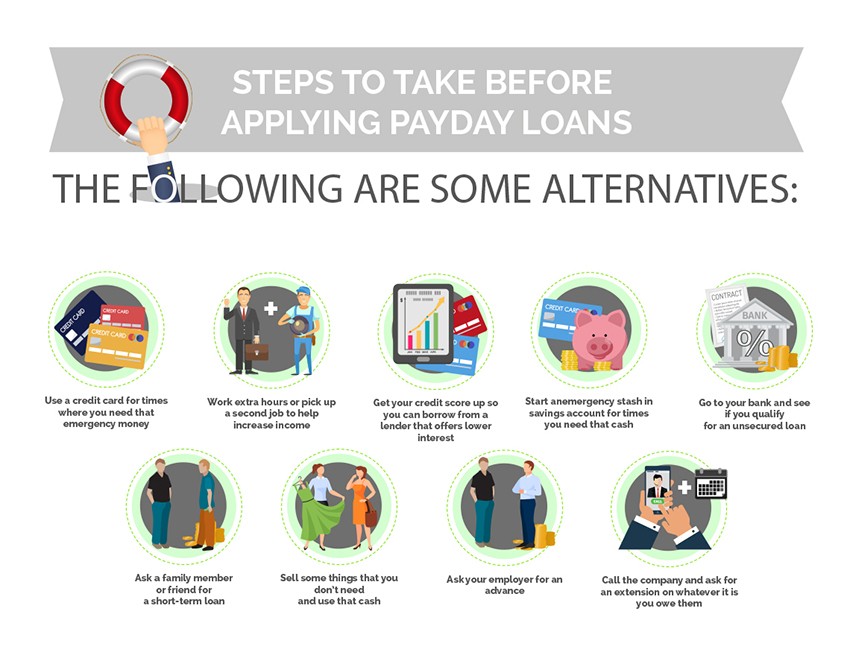 Understand Your State Laws
Depending on your state, the laws regarding payday loans may vary. You may live in a state that has banned payday loans entirely or has set interest and/or fee restrictions. Do some research and get to know your particular state laws.
Is payday lending legal in your state? How much can your lender charge you in fees? What are the borrow limits? How long do you have to pay back?
States That Prohibit Payday Lending
According to the National Conference of State Legislatures, 16 states allow payday loans without restrictions and 28 states allow payday loans with some restrictions. This leaves 7 states that strictly prohibit payday lending.
As far as the states that strictly forbid payday loans, this means that online payday lenders aren't supposed to lend money to those living in these states.
States That Prohibit Payday Lending
Arkansas
Arizona
Connecticut
District of Columbia
Georgia
New Mexico
North Carolina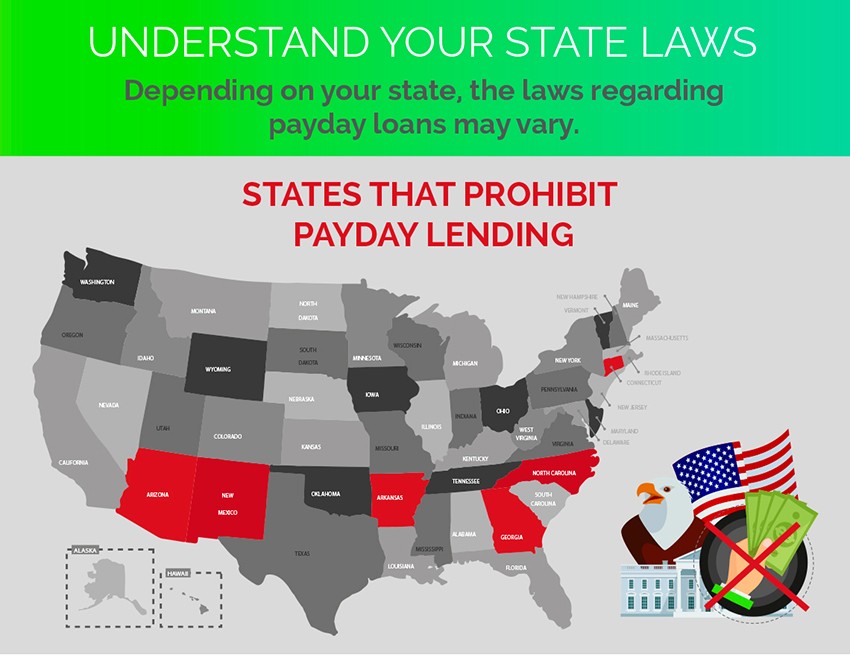 States That Allow Payday Loans With Heavy Restrictions
Some states allow payday loans with heavy restrictions in the interest or fees. These include:
| | | |
| --- | --- | --- |
| California | Colorado | Delaware |
| Hawaii | Illinois | Indiana |
| Idaho | Iowa | Kansas |
| Kentucky | Louisiana | Maine |
| Maryland | Massachusetts | Michigan |
| Minnesota | Mississippi | Montana |
| Nebraska | New Hampshire | New Jersey |
| New York | Ohio | Oklahoma |
| Pennsylvania | Texas | Virginia |
| Washington | | |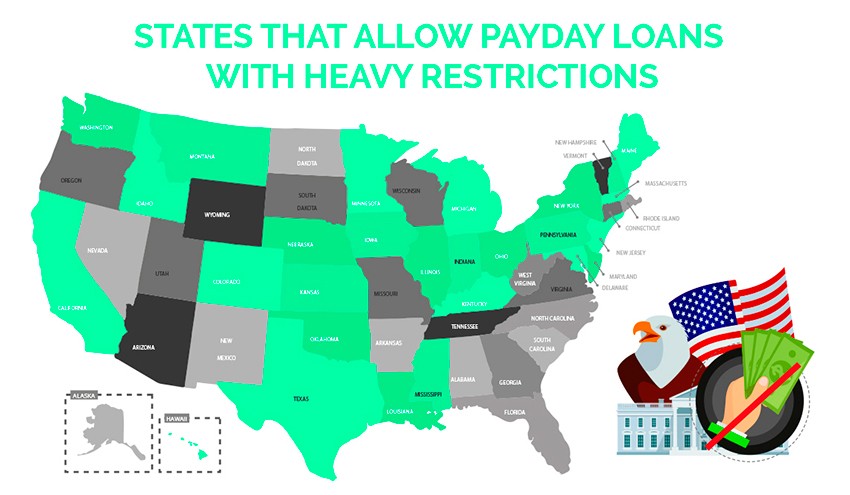 States That Allow Payday Loans Without Restrictions
Alabama
Alaska
Delaware
Florida
Idaho
Missouri
Nevada
North Dakota
Oregon
Rhode Island
South Carolina
South Dakota
Tennessee
Utah
Wisconsin
Wyoming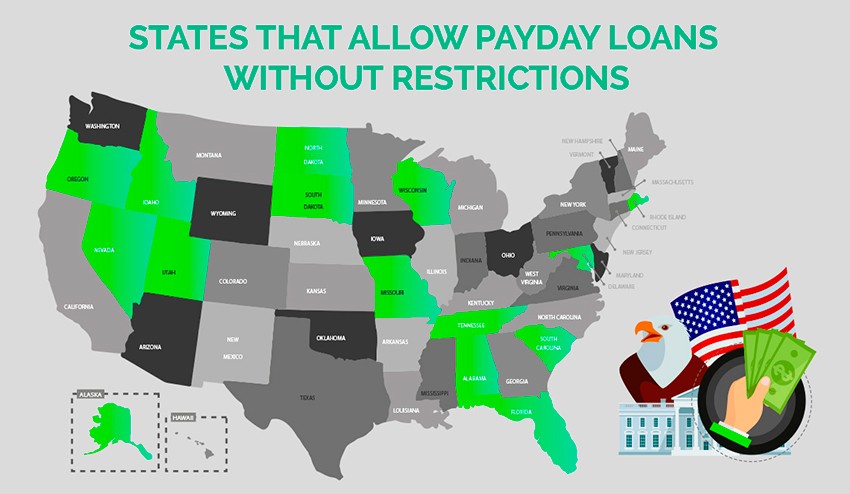 Choose The Right Type Of Loan
When you hit a rough patch financially, and you're in need of a smaller amount of cash between paychecks, a guaranteed payday loan may suit you well. Generally, if you're in need of cash $500 or below, taking out a payday loan online or in store should be appropriate.
However, if you're needing more than $500, you may want to consider a different type of loan. Installment loans work well in this case, in which you borrow the amount you need from your lender and have a certain amount of time to pay that loan off.
For example, if you need to borrow $3,000, your lender may lend you that money and give you 12 months to pay that loan off, for a certain amount of principal and interest each month.
Compare Lenders
Don't do a Google search and choose the first payday loan company that pops up in the results. Take the time to compare lenders in terms of reputation, interest rate, terms of repayment, and how a payday loan process works. Make a list and write down the information that matters. Then, choose the right lender for you.
Check The Lenders Requirements
Regardless of what lender you choose, you're going to have to fill out an application and submit it. There will be various requirements by the lender that you'll have to meet to be eligible for the payday loan.
Basic Requirements for Getting an Online Loan
Pay stubs or some sort of income proof
Identification issued by the government
A physical address, phone number, and email address
An active checking account
Permanent, US citizen
Social security number
Over 18 years old
Сan You Get A Loan?
Reasons Why You Might Have Been Rejected
No one likes to be rejected. I think we can all agree on that. However, some people may be rejected for various reasons when trying to get a payday loan online or in store. Typically, you'll know within a minute or two after you submit for the loan whether you're approved or not.
If approved, it might take a day or two business days to see the cash in your checking account. Or, if you're applying for the loan in a store, they may cut you a check or give you cash right then.
If you're loan application is rejected, it may because of one of the following reasons:
Your income does not meet the qualifications
You're not gainfully employed
Your income to debt ratio is over the acceptable limit
You've already used one or more payday loans
You didn't fill out the application quite right
If you get rejected and you're not sure why, you might want to call the lender to see what the problem was. It may have been an error on the lenders part, so it's best to check.
Why should I get my payday loan from MaybeLoan?
You want to get a payday loan from a reputable company, and that's what MaybeLoan is known for. We've been around for quite a while and have built up a solid reputation. We're here to assist those who need some cash until their next payday. We understand how stressful it can be to not have the funds to pay for your needs, bills, etc., and we know the relief you can feel when you can get that loan.
Here are some great reasons you should get your payday loan from MaybeLoan:
Fast Approval. Fast and easy – that's the way to go! You will know within 10 minutes whether you're approved or not. If by chance you don't hear back within that time, don't be afraid to give us a call. We're definitely rooting for you!
Good Credit Not Required.
If you've got bad credit, we don't see that as a problem. We offer fast online payday loans with no credit checks at all.  We understand not everyone has excellent credit, and we don't hold that against them. So, if you're in need of some fast cash, don't hesitate to apply for a payday loan online, even with bad credit.
Steps for Getting A Payday Loan Online
It's quite easy to apply for a payday loan, usually only taking about 10 minutes to complete online. Just be sure you take your time and submit accurate information, as this will boost your chances of getting approved.
The following are four simple steps to getting a payday loan online:
Fill In The Loan Application Form

Before sitting down to apply for the loan, be sure you've got some key information about yourself handy. You'll need to know how much your income is, information about your employer, address, social security number, bank account, and so on.  Simply answer the loan application questions as thoroughly as you can. Be honest, too! If you're not sure about something, give the company a call to ask your questions.

Receive And Compare The Offers

Within minutes, you'll receive notice if you were approved or not. If so, you'll want to read over the offer and/or terms carefully. Don't just assume all companies are on the up-and-up. The payday loan company will likely explain to you what the APR and fees will be on the loan. Be sure that you're alright with the repayment agreement before you sign the loan agreement.

Sign The Agreement

Once you've reviewed the loan agreement, simply sign it with your full name.

Get Your Money
After you sign the loan agreement, lenders will typically get you the money via bank deposit within one or two business days.  If you need the money sooner, you may want to visit a payday loan provider that has a storefront in your community. Sometimes they're able to cut a check or give cash the same day you apply.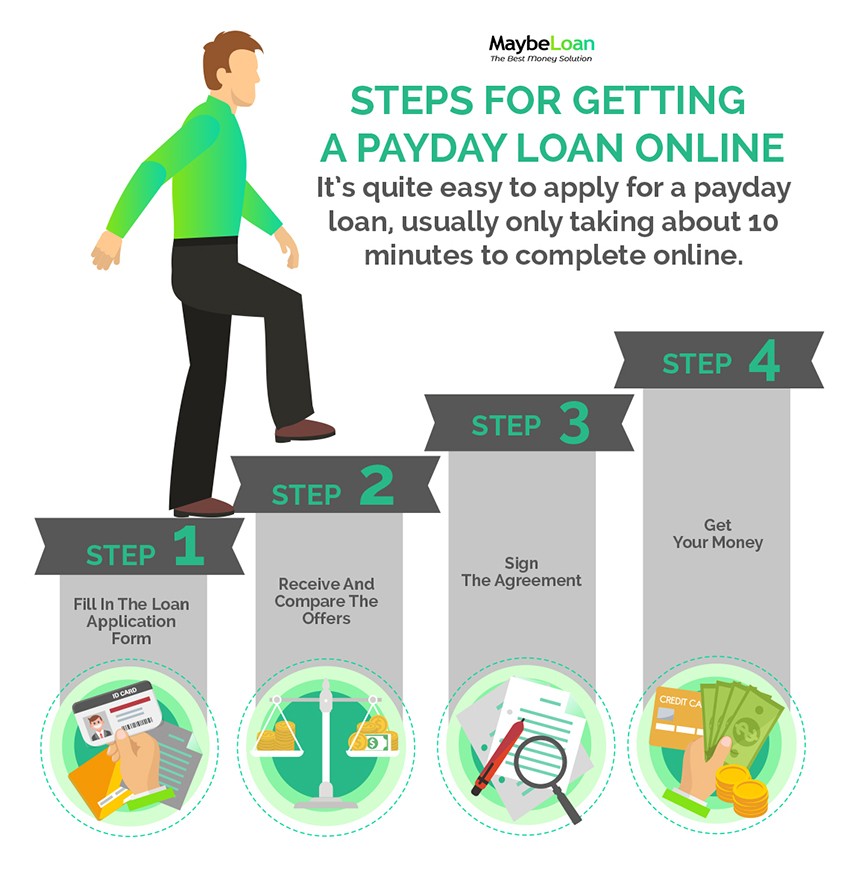 Online Payday Loan Calculator: Calculate Your Loan Payment Right Now
Want to see what your payday loan payment will be? Calculate Now!
calculator
Loan Payments Calculator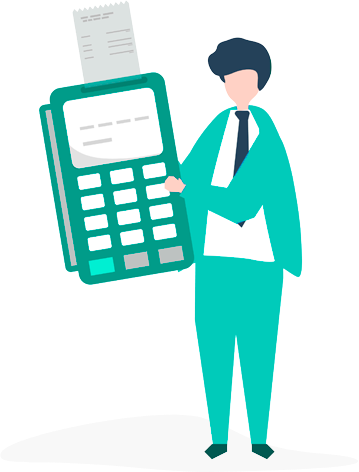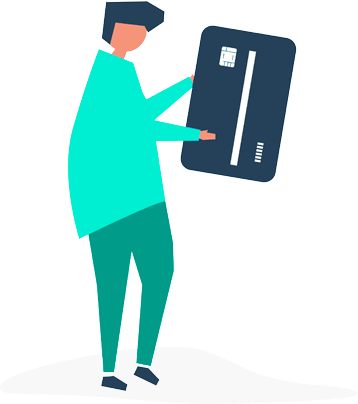 money loan
Key Takeaways
Payday loans online have helped many thousands of people get through a rough financial time. Almost everyone can relate to needing some fast cash at least once in their lives, and online payday loans help. They're fast, easy to get, and easy enough to pay back. They don't tarnish your credit score and they can relieve some stress while you're waiting for that next paycheck.
If you're in need of a small loan until your next paycheck, don't hesitate to apply for an online payday loan today.
Payday Loans In USA Near Me
Payday Loans FAQ: Questions and answers about Payday Loans
Please rate the article:





(
113
votes, average:
3.20
out of 5)

Loading...
Ryan Abramson independent financial advisor. He has been working in the financial sector for over 16 years. Worked in two large US banks. He has 2 higher educations - economic and financial.