At one time or another, you may need to borrow some money, as life has a way of throwing financial curveballs at times. It's not uncommon at all for many people to need a loan from time to time. It can be an awful feeling to need money and not have anywhere to turn. Fortunately, there are various types of loans you can get that can help you out when you're experiencing financial hardships, such as online installment loans.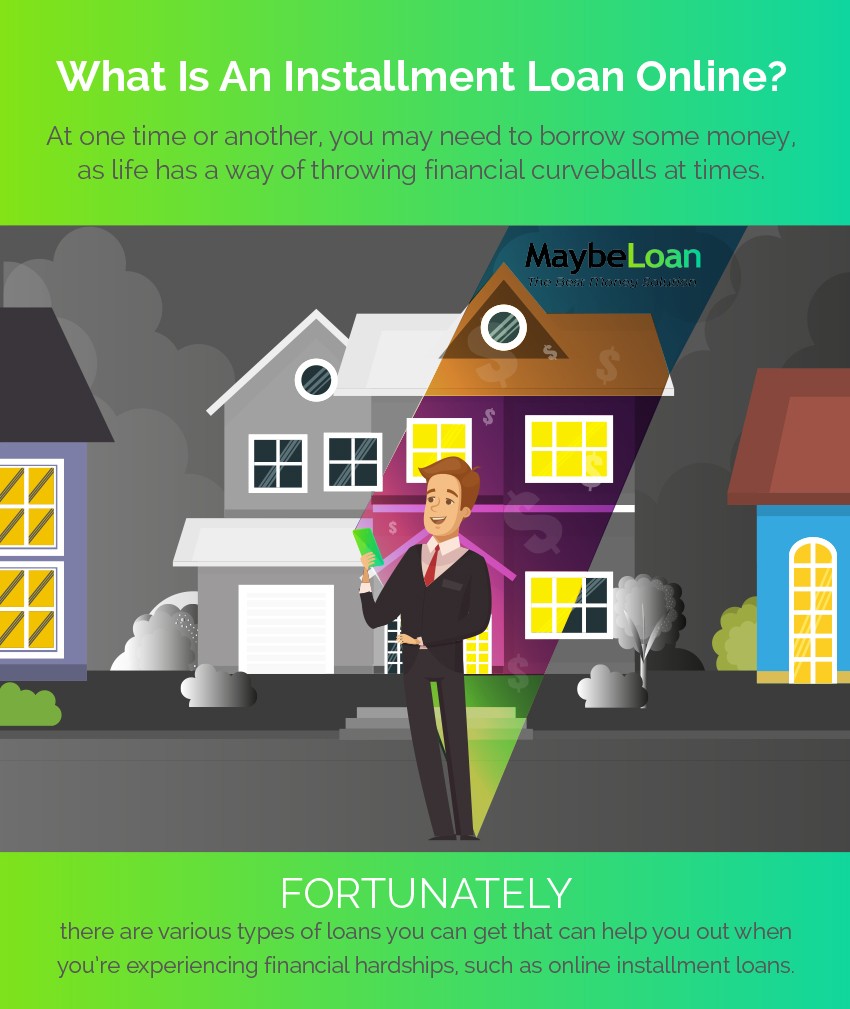 Loans typically fall into two categories: installment loans, such as a home mortgage or auto loan, or revolving lines of credit, such as credit cards. These are different than payday loans, where the borrower borrows a lump sum and then has to repay the lender the next time they get a paycheck. Whereas payday loans are newer on the scene, installment loans have been around for many years.
This article will discuss primarily what installment loans are all about, so you can better know what kind of loan might suit your needs.
What Is An Installment Loan?
Essentially, an installment loan is a loan that has a fixed monthly payment that stays the same throughout the length of the loan. The length could be anywhere from six months to five years to maybe even thirty years. Think of auto loans, mortgage loans, or personal loans. They're the most common types of installment loans out there.
How Do Installment Loans Work?
Let's say you want to purchase an automobile. The cost of that auto is $20,000. You want to get an auto loan for the entire $20K. So, you apply for an installment loan online and are approved for that amount. Now, the installment loan works as follows.
The lender sets your interest rate at say, 4.5%. The loan length is for 60 months – or 5 years.  This means that you agree to pay $372.86 each month for 60 months, which is when the loan is considered paid in full.
Terms And Amounts Of Installment Loans
When you desire an installment loan, the amount you can borrow and the terms of the loan can vary from loan to loan or person to person.  For example, if you apply for a mortgage loan, the interest rate will typically be the going rate at the time, but it may be a higher rate if your credit score isn't that great. One person may want to borrow $100K for a mortgage and take 20 years to pay it off as an installment loan.
Another person may desire to borrow $300K for a mortgage and take 30 years to pay it off. The interest rate can vary from person to person depending on credit score, as well as what the mortgage interest rate is at that time nationally. 
Before applying for an installment loan, you'll want to sit down and determine how much money you need, as well as about how long you'd want to have to pay that loan off. You might not always have a say in the time frame for repayment, but sometimes you may.  In auto loans, often it's up to the lender how long you have to repay the loan, and that may be based on your credit. However, in mortgage loan, you may have more of a say. Typically, though, lenders don't have a problem if you want your repayment length to be shorter than the average. Meaning, if you want to set your auto loan term at 24 months, as opposed to 60, your lender is likely to have no qualms about it – as long as your income is looking good.
Loan Rules, Laws, and Regulations
Installment rules, laws, and regulations may vary from state to state. Most states have a cap on interest rates and loan fees a provider is allowed to charge. This protects borrowers.  Always seek out the fine print before signing any loan agreement. And, if the loan company is guaranteeing an installment loan without doing any checks on you, be leery that it could be a scam company. You want to be sure you're dealing with a legitimate company. Checking the Better Business Bureau is always a good idea before deciding on which loan provider to work with.
Most Common Installment Loans
Most lenders deal with the same type of loans, but some may specialize in a particular type. Always do your research before deciding what installment loan lender you go with. The following are some of the most common installment loans:
Auto Loans – Auto loans are among the most common types of installment loans. From teens just getting their auto license to men and women well into their latter years, auto loans are sometimes necessary to get that vehicle – especially when the vehicle is brand new.
You can typically apply for an auto installment loan at a bank, a credit union, or at the dealership, as most dealerships have lenders they work with. On average, interest rates on auto loans will range from as low as 3 percent to upwards of 15 percent, depending on credit score, income, etc. The terms for repayment vary as well, and usually range from 24 months to 60 months.
Personal Loans – Personal loans are loans that people take out for "personal" reasons. Common reasons for these loans are to purchase large ticket items or experiences, such as a wedding or luxury vacation, to consolidate debt, or a home improvement project. The amount of money borrowed varies as well.  One person may want a personal loan for $2000 for a new HVAC system. Another may want $15,000 for a boat. Typical lenders include banks, credit unions, or online lenders.
Personal loans work just as any other installment loan, with interest rates and terms varying from person to person. Usually, interest rates vary from around 5 percent to 36 percent, and the repayment terms vary from around one to five years.
Mortgages – For those who desire to purchase a home, a mortgage installment loan is the way to go. The amount borrowed is typically higher than a personal loan and repayment terms are likely to be between ten and thirty years. The interest rate on a mortgage loan varies depending on the interest rates common at the time. They've been as low as around 3 percent as high as 18 percent back in the 80's.
There are many mortgage lenders who work with bad credit too, as there are various loan types out there designed specially for those that have tarnished their credit score.  It's helpful to find a mortgage lender and have a meeting to discuss your particular housing needs. They'll pull your credit report and let you know what you qualify for, as well as tips for increasing your credit score should you need to.
Payday Loans – A payday loan is similar to an installment loan, and is geared mainly for those who have a bad credit score and need some fast cash. The way this type of loan works is that the person needing money borrows a smaller amount of money – perhaps between $500 and $1000 – but agrees to pay that money back the next time they get paid. There is a small fee charged for the loan, as well as an interest rate. Payday loans help plenty of people who are living paycheck to paycheck.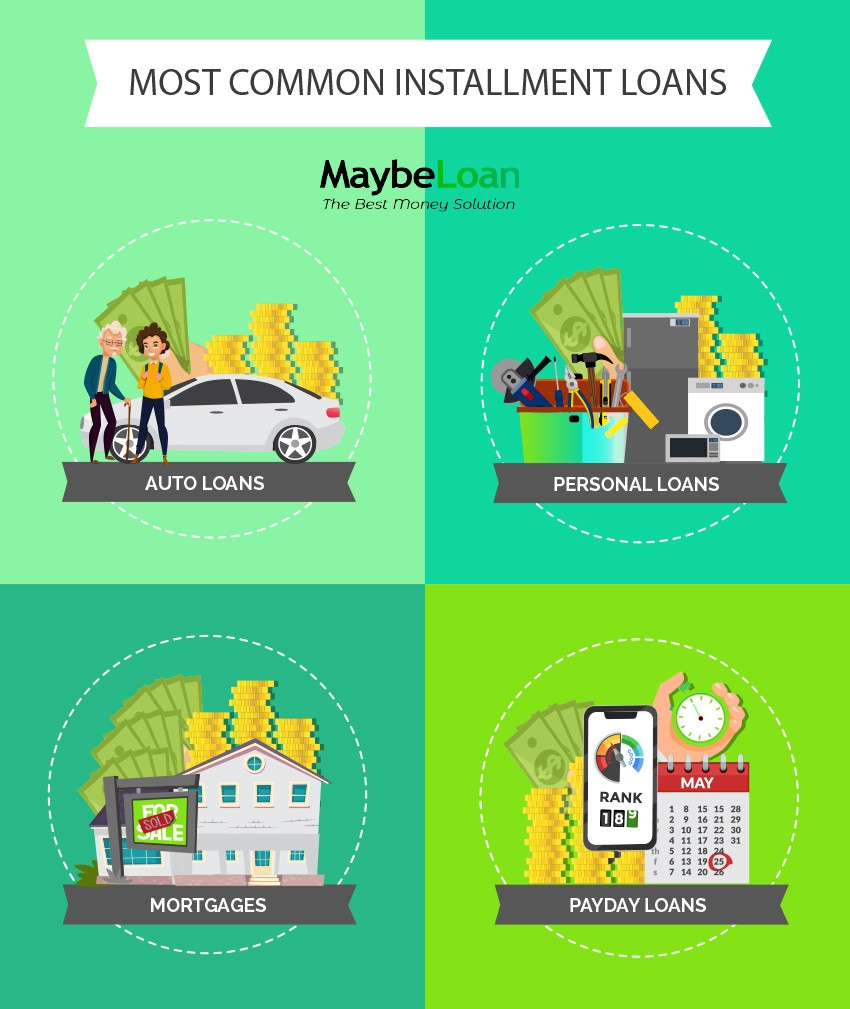 Difference Between Personal, Installment, and Payday Loans
When you're seeking an installment loan, you'll want to get familiar with some of the commonalities and differences of the various options. What would be the best for you in your situation? A personal loan? A payday loan? Do you need an installment loan at all?
It's important to do you research when it comes to the rates, fees, terms, and legalities for each loan.  If you're needing some cash, the amount of cash you need can be a determining factor in what type of loan you need.
For example, if you need $800 to pay this month's rent, you don't necessarily need a personal loan. A payday loan, in this case, may be all you need – and then you simply pay that whole amount back (plus the fees) the next time you get a paycheck.
Let's say you need $2,000 for a new HVAC system for your home.  You may then be better off applying for a personal loan that you can agree to pay back as monthly installments, for say – one year. Of course, you'll want to crunch the numbers to see what types of fees and interest rate you're dealing with.
The Pros And Cons Of Having An Installment Loan
If you're wondering if you should get an installment loan, or choose a different kind of loan, it's always a good idea to review the pros and cons. The following will help you out:
Pros of Installment Loans
There are various pros of obtaining an installment loan, such as:
Boost Your Credit – Getting an installment loan may give your credit score a bit of a boost, as long as you're making your payments on time.
They're Manageable – When you have an installment loan, all you have to do is remember to pay your monthly loan amount each month by its due date. It's easy.
Your Payment Stays The Same – You don't have to worry about your payments changing. They typically stay the same month to month with a fixed interest rate.
Easy To Apply For – Most installment loans are quite easy to apply for, with many lenders allowing you to apply online.
No Worries About Discrimination – You won't have to worry about being discriminated against.
Cons Of Installment Loans
As with any loan, there are pros and cons. The following are some cons of installment loans:
Not as flexible – Installment loans aren't as flexible as say, credit cards, in that your payment stays the same. With a credit card, you could try to increase your credit if you need.
Interest May Increase – If the installment loan is an adjustable interest rate, the interest could increase in the future. 
High Interest Rates – Some installment loans, such as Payday loans, cater to those with poor credit, but the interest rates and fees can be incredibly high.
Hidden Prepayment Consequence – Always check to see if there is a consequence if you repay your loan in full early. Some installment loans have that clause in there.
Requirements For An Installment Loan
To get an installment loan, there will be some basic requirements that you'll have to meet. Some requirements may vary from provider to provider, but there are common ones. The following are typically what a lender will require from you:
Be at least 18 years old
Have steady income with proof. If you're not employed, but have steady income coming in (social security, child support, etc.), that may qualify you.
You should have a checking account.
You will need to provide your address, phone number, and perhaps an email.
You may need to supply your social security number if you're applying online.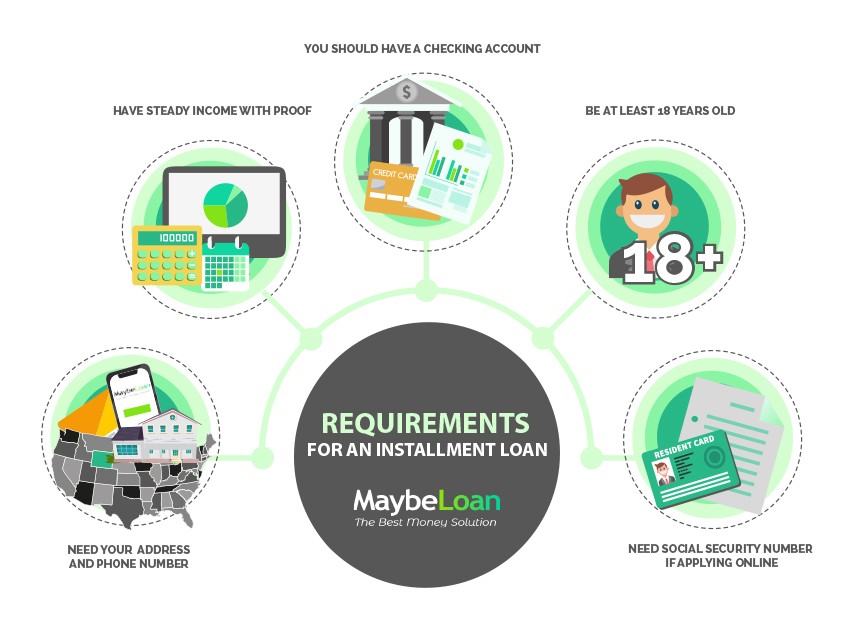 CAN YOU GET A LOAN? CHECK NOW!
Why MayBeLoan? Providing Better, Faster Installment Loans
MayBeLoan is a leading independent online service that provides installment loans for those with good or poor credit scores. We also offer other ways you can get the cash you need – fast!  It takes as little as ten minutes to know if you qualify or not.
The following are some key benefits of using MayBeLoans for your next loan:
You Can Apply Online – At MaybeLoan, you can apply for your loan online. No need to head out to a brick and morter store. Simply type in the necessary information and you'll know within minutes if you're approved or not.
It's Fast And Easy – No one wants to wait around for days wondering if they're approved or not. We understand. That's why we make the application simple and the approval process lightning fast. As mentioned before, you'll know in about 10 minutes whether or not you're approved.
It's Safe And Secure – Our website uses only the best safety and security measures to ensure that all of your information stays that way – safe and secure!
Bad Credit? No Problem – We understand how easy it is to fall into situations where your credit score takes a hit.  Life throws some financial curveballs for sure. If you've got bad credit, we want you to know you can still get a loan to help you through a tough money time. We've got various loan options for various low credit scores.
24/7 Friendly Customer Support – Have a question or concern? We're here 24/7 with friendly customer support to assist you.  No waiting on hold for crazy long amounts of time either. We believe in providing the best customer service, because that's what you deserve.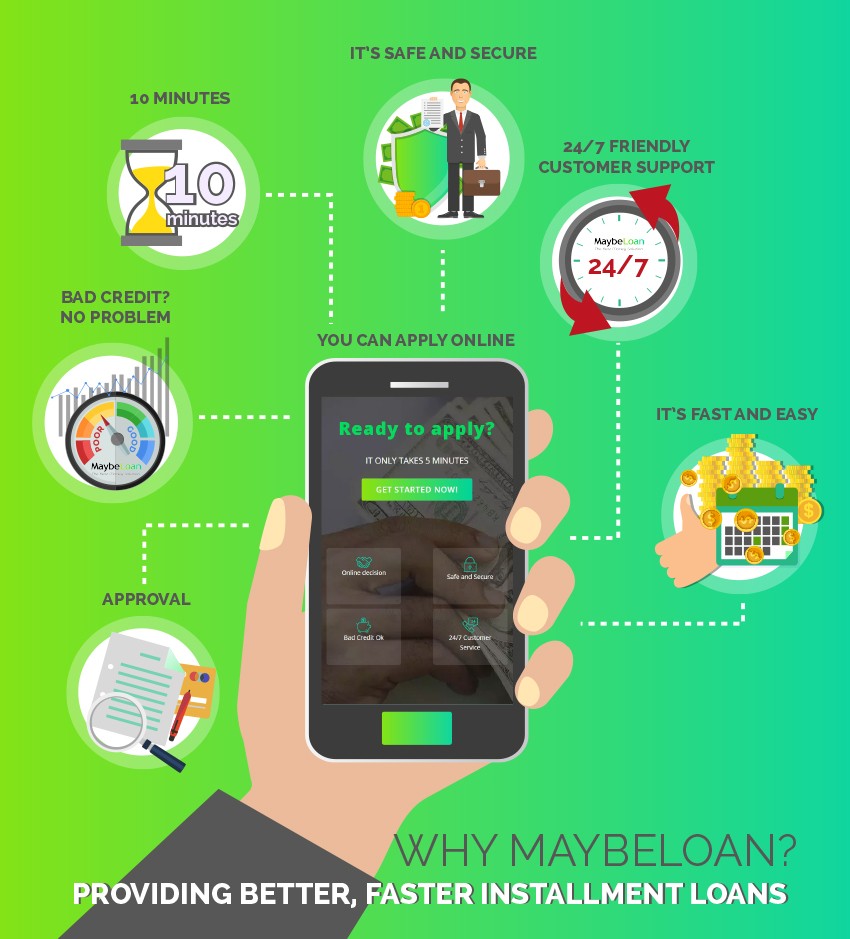 How It Works: Get Online Installment Loans
If by chance you don't know your credit score, you can get a free credit report once a year. This allows you to see where you are and can help you know what to do in order to increase your credit score. You can request your free credit report from Experian, Equifax, and TransUnion – the three main credit reporting agencies. Be sure you check to see that the information is correct.
As mentioned before, you can typically apply for an installment loan with a bank, credit union, or an online lender.
To apply for an installment loan online, it really is quite an easy process.
Here at MayBeLoan, you can simply APPLY NOW and within about 10 minutes you'll know if you're approved.
If you're approved, you'll be able to get your money within a day or two.
How To Get An Installment Loan With Bad Credit
If you have bad credit, which usually means your credit score is below 580, you can still apply for an installment loan, or another type of loan.  The following are some options for bad credit loans:
Payday Loans – A payday loan oftentimes work great for those with bad credit and who need a bit of cash until their next payday. Typically, a payday loan is a small loan, usually between a few hundred dollars to maybe $1000. It varies from an installment loan in that you don't make monthly payments on it. Rather, the next time you're due to get a paycheck, you pay off the entire loan then, plus added interest and fees.
Payday loans are a nice option for those who simply need some fast cash to tie them over until their next paycheck. This could be for rent, mortgage payment, auto payment, or plenty of other things you may need cash for.
Credit Card Advances – You may be able to get a credit card cash advance even if you have bad credit. The interest rate may be high and the amount of cash you can get may not be able to be super high, but it can tie you over until you get through the rough money patch.
Guaranteed Installment Loans For Bad Credit: Do They Exist?
Installment loans are available for those who have bad credit. You simply need to read the fine print and know the terms that you're agreeing to. You could end up paying really high interest or fees, which you may be alright with because you're in need of the money.
Installment loans are different from payday loans in that you pay a certain amount of money monthly toward the repayment of the loan.
It's likely if you're wanting an installment loan and you have bad credit that you'll apply for a personal loan that's designed for those with poor credit or little credit history. You may find local banks, credit unions, or online lenders that lend installment loans to those with bad credit.
If you're trying to get a personal loan, you'll have a better chance at being approved if you have something to put up for collateral (secured loan). However, even if you don't, you still have a chance at getting that personal loan; it'll just be considered an unsecured loan and may involve a higher  interest rate.
How You Can Check Your Credit Score Right Now
You can head over to Experian, Equifax, and TransUnion to get a free credit score right now!
Installment Loan FAQs
Here are some frequently asked questions about bad credit installment loans:
How Do I Qualify For An InstallMent Loan?
It can vary from lender to lender, but typically, to qualify for an installment loan, you'll need:
Proof of income
A checking account
Address, phone number
Government issued ID showing your age
A decent credit score
Granted, there are installment loans for people with bad credit too.  You just might have to pay a higher interest rate and shop around to find a lender who provides these loans.
What Should I Do If I Have Bad Credit?
If you haven't gotten your credit score yet, find out what it is. You can get a free credit report once a year from the three leading credit reporting agencies: Experian, TransUnion, and Equifax. If you find out your credit is bad, start working on increasing it as best as you can.  This means making your loan payments on time or arranging for a repayment schedule that may help you.
If you're needing money, such as an installment loan or payday loan, know that there are lenders that will lend people with bad credit money. Start doing your research and see what type of loan you think will work for you in your situation. You can do some internet browsing and call around to some banks or credit unions as well.
How Long Till I KNow If I'm Approved?
If you're applying for an loan instantly online, you'll typically know with 10 to 15 minutes whether or not you're approved for the loan. You may even know within a few minutes.
How Does An InstallMent Loan Work?
When you take out an installment loan, you agree to make monthly payments on that loan until you pay it off. For example, let's say you want to borrow $30,000 for an automobile. The lender will check your credit score and based on it, decide on what interest rate to charge you. Let's say the lender says they will lend you that money at 7% interest for 60 months, or five years.
That means that you'll pay around $535 each month for 60 months – give or take depending on any other various fees. As an installment loan, your monthly payments usually stay the same until the loan is completely paid off.
When Do I Receive The Money If Approved?
Usually, you'll have your money within a day or two if you're approved for an installment loan online. Of course, this can vary from company to company. Some lenders may allow you to pick up your cash at a cash express store, or direct deposit your money within 24 hours. Before applying for a loan installment for bad credit, be sure to discuss with the lender when you'd get the money if approved.
How Much Can I Borrow?
Online installment loans may not be available in every state. In addition, the limits on borrowing can vary from state to state. If you wonder how much you can borrow, it may depend on your income, as well as your expenses. You may be able to borrow $500 or $1,500, but again, it will depend on various factors.
Do I Qualify?
To see if you qualify for a bad credit installment loan, simply apply. It's easy and fast. Gather your required documents, such as proof of income, checking account, and ID, and you're ready to apply.
Are InstallMent Loans Like Payday Loans?
An installment loan and payday loan are offered to help those in a tough financial spot. Needing some cash for small to medium purchases is common, and for those with bad credit, both types of loans can be helpful.
The biggest difference between the two loans is how you're going to repay them. An online installment loan is paid month by month at a fixed rate until the loan is paid off. A payday loan is typically paid in lump sum the next time you get a paycheck. It's also more common for installment loans to be higher numbers, such as when purchasing a car, as opposed to a payday loan that might be needed to cover rent for a month.
ONLINE INSTALLMENT LOAN CALCULATOR: RATES AND COST
calculator
Loan Payments Calculator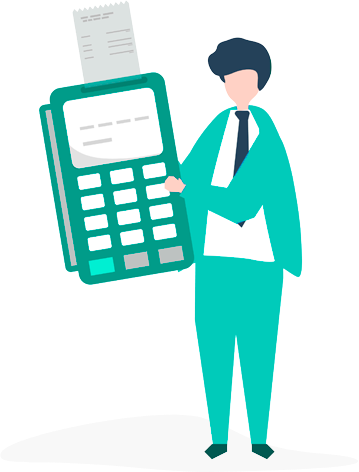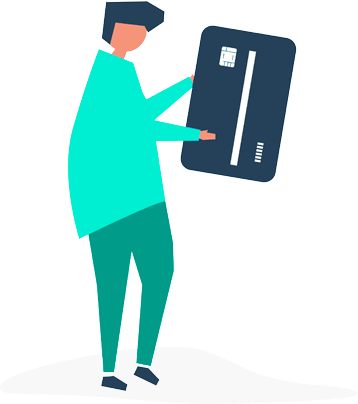 money loan
The Bottom Line
Many people wonder how they can get an installment loan with bad credit. If you currently have bad credit, there are still various options for you if you need a loan with installments.  Online lenders are increasing too, making it even easier to get that cash when you need it. However, before you make your decision to apply for an installment loan, or any other type of loan, be sure you take your time in checking out the interest rates and fine print.  Exploring your options is smart and can help you avoid making a mistake that you'll regret down the road. 
Installment loans for bad credit are great options when you need a loan, and as you diligently make your monthly payments on time, you'll have the chance to build your credit. That can make any future loan interest rates even lower.