You need cash and you need it fast. Whether it's for rent, your auto payment, insurance, or food, the reality is that you just need a small loan until your next paycheck.
But you've also got bad credit and right about now you're feeling anxious and frustrated.
Good news.
You can get loans even if you have bad credit – and you can get them fast.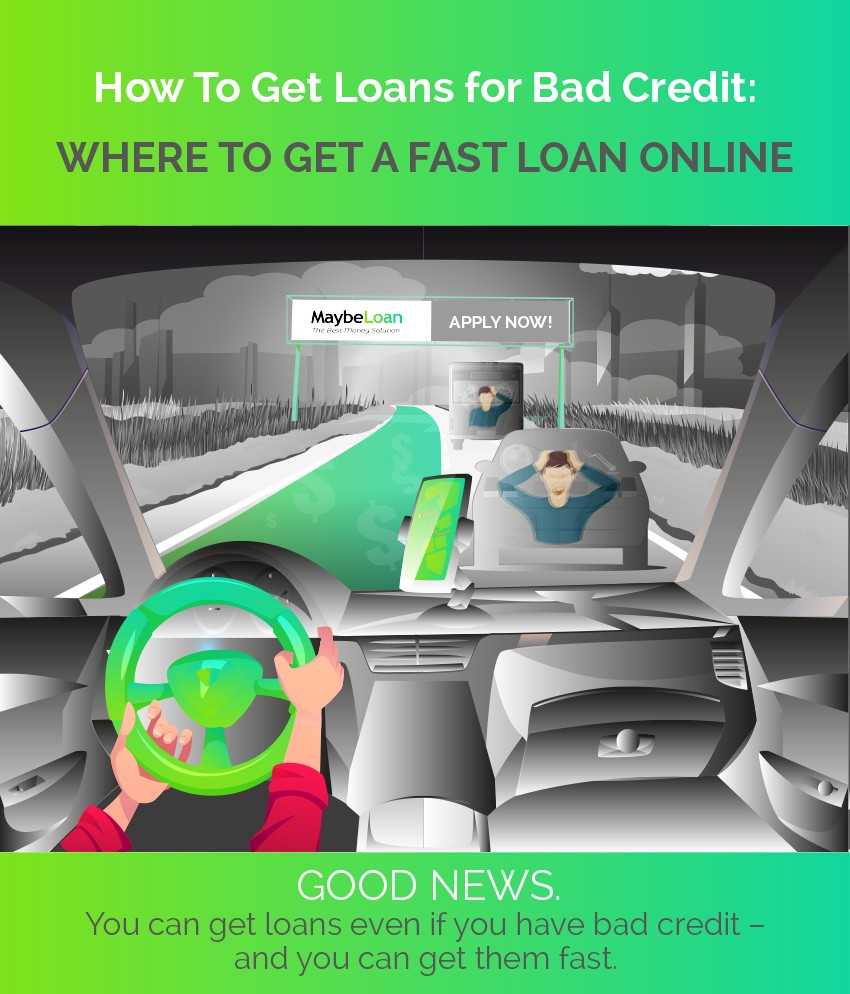 Call them bad credit loans, online personal loans, payday loans – the truth is that if you've got income coming in, a bank account, and a government issued ID, you may be eligible for a fast loan even if your credit isn't that great.
What Are Bad Credit Loans?
Bad credit loans are personal loans for people who have a poor credit score or just haven't built up their credit yet. By bad credit, we mean a score that ranges from 300 to 579 according to FICO (Fair Isaac Association). These quick loans for bad credit are offered by some banks and lenders as secured or unsecured loans. Secured loans usually require some sort of collateral, like your car or home.
Unsecured loans don't require such backing. As such, your interest rate is likely to be higher and you may not be able to borrow as much money as a secured loan. The reason is because you aren't backing the loan up with any assets.
How Do Bad Credit Loans Work?
Loans for people with bad credit work much the same way as a good credit or personal loan. The major difference will be the interest rate and perhaps the terms of repayment. If you're approved for the loan, you agree to a certain percentage rate and a certain number of monthly installments.
There are some banks that cater to people needing a bad credit loan. There are also direct, private lenders or companies that loan fast cash to those with poor credit.
Why Is It Usually Difficult To Get A Loan With Bad Credit?
If you have bad credit, this is typically a red flag to a lender. It might mean that you've not handled your finances great in the past, perhaps missing payments to creditors, filing bankruptcy, getting evicted, and so on. It could also mean than you simply haven't built up your credit yet, which is oftentimes the case for youngsters.
Lending money to someone with bad credit is risky for a lender, and that's why it's usually difficult to get a loan. Would you lend money to your friend who hasn't paid back many of his debts? You might, but it would be a bit risky. However, if they were diligent and faithful with their debt repayments, you'd be much more apt to lend to them.
What Is A Credit Score?
A credit score is a number created by credit ninja models like FICO or VantageScore. You can get them through a main credit bureau, such as TransUnion, Experian, or Equifax. The credit score is used to show someone's creditworthiness. This means that your score – sometimes called your FICO score – lets creditors know how likely you are to repay your debts.
A credit score can be in the range of 300 to 850. The higher your credit score, the better you look in front of a creditor. Your credit score can fluctuate depending on whether or not you make your payments on time, as well as how many accounts you have open.
One good thing about credit scores is that even if you have a low score, there are things you can do to increase it over time. We'll discuss this in just a few minutes.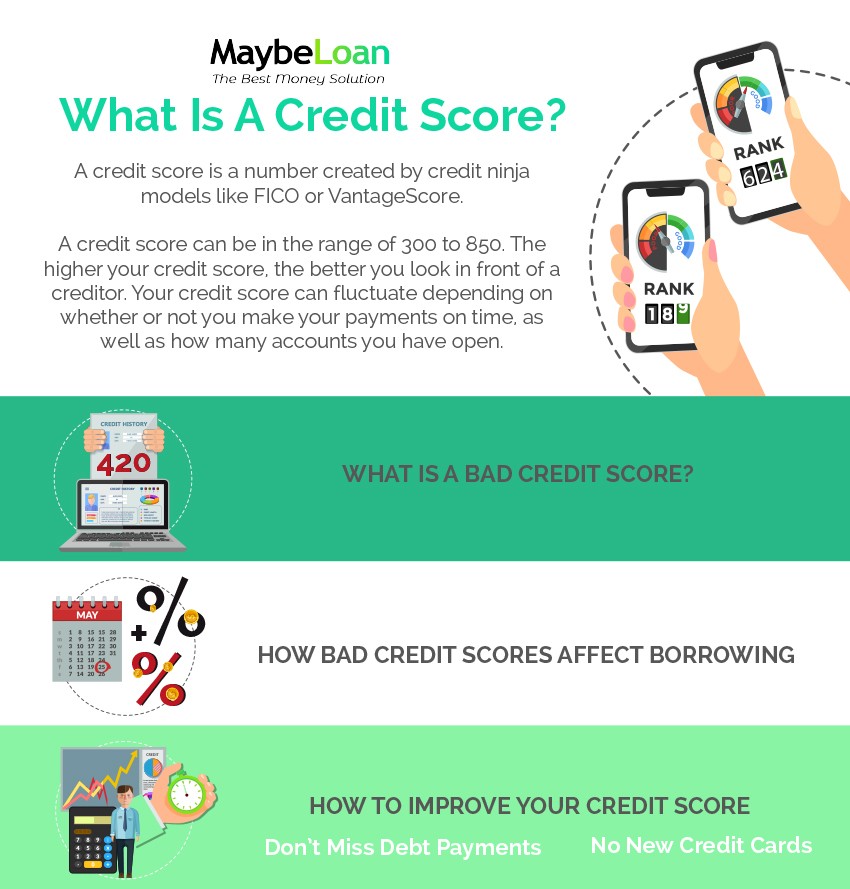 What Is A Bad Credit Score?
According to Experian, a bad credit score falls between 300 and 570 if you're using the FICO score. A fair score typically runs from 580 to 669.
How Bad Credit Scores Affect Borrowing
There are some lenders or loan providers that may turn away from those with bad credit scores. The low scores let them know that the person hasn't been able to repay debt very well or responsibly. However, bad credit doesn't mean no one will lend money to you. In fact, there are plenty of lenders willing to lend small loans for bad credit, but the interest rate is likely to be higher than those in the good credit score range.
How To Improve Your Credit Score
Once you get your credit score and you make a commitment to improving it, there are several ways you can do so. First, look over the credit report thoroughly. Be sure that there aren't any errors there. You may have paid off something and it's still listed there as outstanding. Or, it may state you've been late on payments, when in fact, you haven't.
If you find discrepancies, contact the creditors involved and discuss the situation with them. If an error has been made, request that they correct it as soon as possible.
Don't Miss Debt Payments

Pay your debts on time. If you continue to be late with monthly payments, that's going to hit your credit score and keep making it sink.

No New Credit Cards

Don't take any new credit cards out. Do your best to pay above the minimum amount due on current credit cards or loans.
Is It Possible To Get A Bad Credit Loan With No Credit Check?
Good news for those who have bad credit: You can get a small bad credit loan without a credit check. Typically, these are called payday loans or cash advances.  A payday loan is a small loan, usually between $100 and $500, that's lent to the borrower with terms stating that the loan must be paid back in full at the time of the next paycheck. The lender will either have the borrower postdate a check for the amount or will have their bank account linked so they can order a withdrawal on payday.
Cash advances through credit cards are similar to payday loans, in that they won't usually run a credit check. However, interest rates can run very high.
Check Your Credit Score NOW
Pros And Cons Of Bad Credit Loans
Before deciding whether or not you should try to get a loan for bad credit, be sure you weigh the pros and cons. Not every loan company out there is reputable or right for you. If it seems too good to be true, it might not be in your best interest- meaning if they're not checking to see if you have income or guarantees you money, they could be scammers. If you're not sure, check with the Better Business Bureau.
With that being said, the following are some of the pros for moving forward with a loan geared toward those with bad credit:
Pros For A Bad Credit Loan
You Can Get The Loan Quickly – Bad credit loans can usually be applied for online and you'll know really fast whether you're approved or not. And, you may even have the cash in hand or in your checking account with a day or two.
Better Interest Rate Than Credit Cards – Credit card cash advances hit you with really high interest rate. Bad credit loans typically have a lower interest rate, which can save you some money.
Plenty Of Options – There are a variety of bad credit loan lenders out there, with more coming onto the scene all the time. No doubt in a world where it's rather easy to hit a financial rough patch there's a need for this type of lending. With so many lending businesses, you may be able to compare them to see who will offer you the lowest interest rate.
Plenty Of Time For Repayment – Many lenders will allow you plenty of time to repay the bad credit loan, perhaps up to five years.
A Chance To Prove Yourself Credit-Wise – If you get a bad credit loan, you'll have a chance to redeem yourself credit score-wise. Make your payments on time and it's likely your credit score will increase.
Stress Relief – Getting that money that you need can help reduce your stress, at least for the time-being. Making that rent payment, catching up on the car payments, etc. can help you breathe a sigh of relief, and give you some time to get your financial situation in a better spot.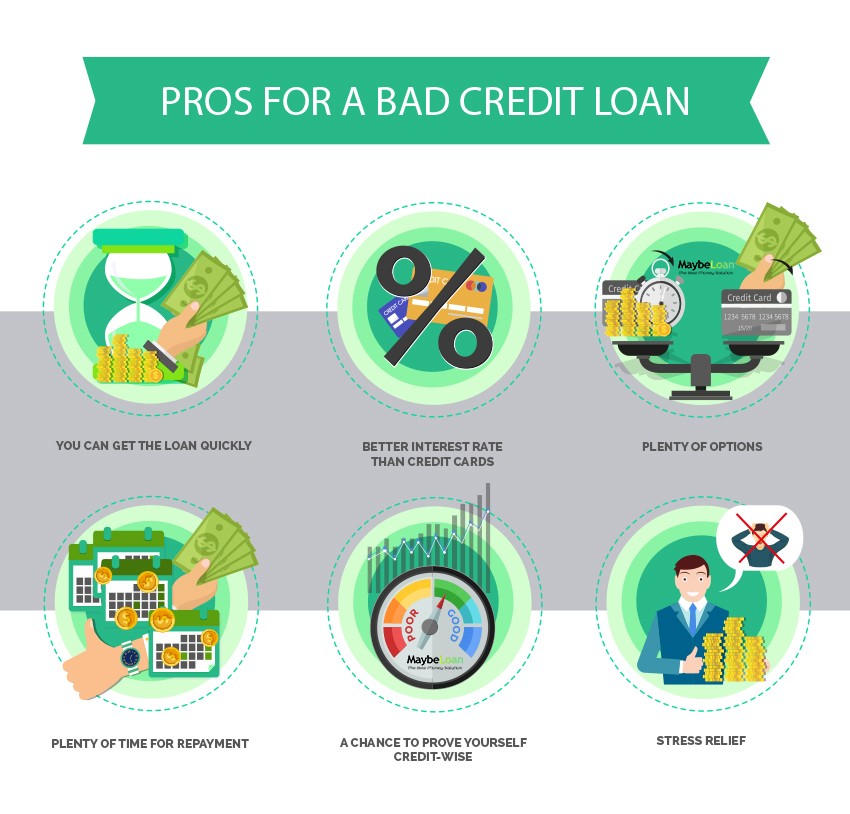 The Cons For Bad Credit Loans
Just as there are pros for bad credit loans, there are also some cons:
Rather High Interest Rates – If your credit is bad, no doubt the lender's going to think you're high risk. Therefore, they're going to charge you higher interest.
You May Need Collateral – Some lenders may require you to have collateral for a quick loan with bad credit. This means they want you to have something on the table that they'll get if you don't pay that loan back. Often, people use their automobile or house as collateral. If payments are missed or they stop paying all together, they could lose that collateral.
The Fees And Penalties May Get You – No doubt there will be some fees and penalties mentioned in the fine print. Be sure you read it and see what the penalty fee is if there is a late payment. Check to see if there's a loan origination fee as well.
There Are Some Unlicensed Lenders Out There – Note that there are online lenders that don't have their lending license. There are others that could simply be shady, so do your homework to find out if the company you want to work with is reputable and licensed.
As with any loan, there are pros and cons. Weigh them out before you make your decision to borrow money from any lender.
Where To Get A Loan With Bad Credit
When you need some emergency funds and want to try to get a loan with bad credit, know that there are options.  Take some time to learn what's out there, and always compare things like interest rate, fees, repayment options, and the reputation of the lender.
Typically, if you're in need of fast cash for something like medical costs or auto or home repair, you'll get a better interest rate if you seek out an unsecured loan over something like a cash advance or payday loan. However, even unsecured loans may have high interest rates, so do some comparing before you decide.
Large, mainstream lenders may not be the avenue to go if your credit is super bad. Rather, check out the following options:
Online Personal Loan – Some credit unions, banks, and online lenders offer personal loans you can apply for right online. While many lenders want borrowers to have a good credit score before lending them money, there are some out there that cater to those with bad credit. You'll simply need to shop around.
Keep in mind some personal loans are secured and some unsecured. It may be easier to get a secured personal loan, because you're putting up an asset (car, home) for collateral. However, if your credit is bad, you're probably more qualified for an unsecured loan. It's just that your interest rate is likely to be higher than a secured loan.
Personal loans are a good option for those who need higher amounts of money than a typical payday loan offers. And, you have a longer time to repay the loan.
Credit Unions – If you're not sure what a credit union is, think of it as a small bank in a community like you'd think of many years ago. One bank in the city for all people.
Though credit unions are much bigger these days, and have a lot more competition, they're still a great place to go if you're seeking a small loan and you have bad credit. Check with your employer to see if they are affiliated with a credit union, or if you're a veteran, check out the veteran-friendly credit unions.
One great thing about a credit union loan is that they aren't allowed to charge higher than 18% interest. A cash advance or personal loan might charge more than 35 percent interest, so it's worth trying to get a loan for bad credit with a credit union before trying the other options.
Secured Or Unsecured Loan For Bad Credit – As mentioned before, a secured loan is a loan where you must put up some collateral to be loaned the money. This could be an automobile, home, land you own, or some other asset. If you don't pay your loan back, they can take this asset from you.
An unsecured loan doesn't require collateral, but you'll likely pay more interest on that loan. Because the lender may not feel secure about this type of loan, they don't lend it out easily. If you have bad credit, it's likely the lender will point you toward applying for a secured loan, so they have something to fall back on in case you default.
Payday Loans – A payday loan is a small loan a lender lends usually until your next paycheck. The amount of money usually borrowed is between $100 and $500. It may be a bit more than that, but typically payday loans are small loans just to get you by till your next pay. You'll either post date a check that the lender cashes when you get paid, or you give them your checking account information so they can make a withdrawal your next payday.
What's nice about a payday loan is that most lenders don't do a credit check, so even if you do have bad credit, it's not going to be a strike against you. However, you'll likely pay high interest rates and fees, so be sure to read the fine print.
Home Equity Loan – If you own your home and have some equity in it, you may be able to apply for a home equity loan even if you have bad credit. There's also something called a home equity line of credit (HELOC), where the lender loans you money as credit, where you use your home as collateral. There are lenders out there who will lend to those with bad credit, but have equity in their home. The main reason for this is because the home is an asset the lender can go after should the borrower default on the loan.
Peer-To-Peer Lending (P2P) – Some investors like to loan money, even to those with bad credit. You might want to check around to see if there is a P2P lender that will lend you the money you're needing. Your credit score might not make as much of a difference to such a lender, as it would to a bank or large lending company. Just be sure you go over the logistics, including interest rate, fees, and repayment terms.
Ask Someone To Co-Sign – The chances of you getting approved for a loan with bad credit increase if you can get someone with good credit to co-sign for you. This can also help lower your interest rate. Ask a family member or good friend that has a good credit score if they're willing to co-sign for you. Assure them that you'll make payments on time until the loan is completely paid off.
Ask For A Loan From Family Or Friend – If you have a family member or friend that you know has the extra cash to loan, ask them for a loan.  Borrowing from friends or family can help you get through those rough patches, and it gives them a chance to help you. Of course, just be sure you follow through with the terms of the loan you set.
Online Bad Credit Loan Requirements
There are certain requirements for obtaining an online bad credit loan or business loan for bad credit.  The following are typically what you'll need as you move forward to apply for an online loan.
Be Age Appropriate – Typically, you must be 18 or older to apply for an online bad credit loan.
Have Legit Address – You'll need a permanent address when applying for the loan.
Credit Score – Lenders vary in terms of when they're willing to lend to those with poor credit scores. One lender may say yes to someone with a bad credit score of 440, while another may say no. Check your credit score to see what it is and do all you can in the meantime to start increasing it.
Documents – You'll need a few documents to apply for a loan with bad credit. They may include:
Pay stubs
List of any unsecured debts you have like credit cards
Proof of any assets you have, such as automobile, home, etc.
You may need your most recent tax return, 1099 or W-2
Bank statement for checking and/or savings account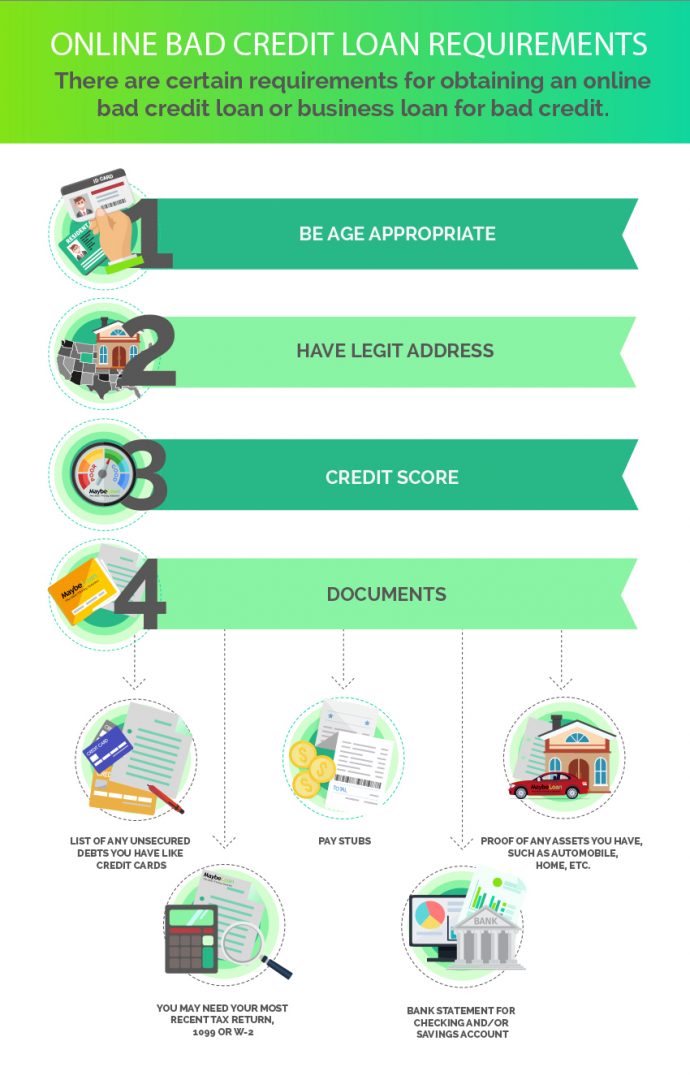 Do I Qualify For a Bad Credit Loan?
Check Now!
Why You Should Choose "MaybeLoan" For A Bad Credit Loan
When you're in need of a loan, bad credit or not, you want to choose an online provider that's got a good reputation that provides a variety of financial offers.  MaybeLoan is just that kind of provider. The following are some major reasons you should choose MaybeLoan for a bad credit loan.
Fast Approval – MaybeLoan doesn't make you wait for days to know if you're approved for a loan for bad credit. You'll know within a matter of minutes of applying for the online loan with bad credit.
You Don't Need Good Credit – We understand that tough financial times hit just about everyone now and then.  If you have a bad credit score, don't sweat it.  We loan money to those with poor credit scores in a variety of ways. And, by getting a loan by MaybeLoan, you'll have a chance to repay it and boost your credit score as you do.
Steps For Getting A Bad Credit Loan Online
When applying for a bad credit loan online or personal loan for bad credit, consider the following:
Fill Out The Online Loan Application Form. The first step toward getting a bad credit loan online is to take the time to fill the application out fully. Be sure you put in the correct information and fill it out completely.  You can do this with one lender or several, and usually know within about ten minutes whether you're approved or not.
Compare Loan Offers. When you're approved for a loan, take the time to compare one loan to another. Read the fine print and see what the interest rates and repayment terms are.  Just because you're approved doesn't mean you have to follow through with a particular loan. It's not until you sign the agreement that you're actually tied to that loan. So, do your research and choose the right loan for bad credit for you.
Sign The Agreement. Once you've made your decision, simply sign the loan agreement.
Receive Your Money. Usually, once all the paperwork has been signed, you'll have your loan within one or two business days.
Managing Your Personal Loan Responsibly
Having a bad credit score isn't the end of the world if you're willing to start doing things to boost it.  Whether you've got loans out already, or you're taking out a new bad credit loan, learn how to manage your loans responsibly. As you do, you'll let lenders know that you're serious about things like repayment, as well as working toward improving your overall financial situation.
Here are several things you can do to work toward managing your personal loan responsibly:
Update Your Budget – Now that you have a new monthly loan payment, update your budget. For example, if you've taken a personal loan out and your monthly payments are $100, be sure you add that expense to your budget. You'll want to make sure you have enough to repay the lender so you can keep building your credit score.
Stay In Touch With Lender – If for some reason you're going to be late on a payment, be sure to reach out to the lender to ask for an extension. Just ignoring the situation won't do you any good and late payments can hurt your credit score.
Frequently Asked Questions (FAQ) About Bad Credit Loans
HOW MUCH SHOULD I BORROW?
The amount you should borrow will depend on your particular situation and various factors. A lender will look at your current income and possibly your credit score. If you need a small amount of cash, you may want to consider something like a payday loan, where you repay it the next time you get paid.
If you need over $1,000, you may want to apply for a personal loan for bad credit, cash advance, home equity, or peer-to-peer lending.
HOW DO PAYDAY LOANS AND BAD CREDIT LOANS DIFFER?
The biggest difference between a payday loan and a bad credit loan is that a payday loan is to be repaid the next time you get paid. A bad credit loan is an installment loan, meaning the terms on the loan are different, requiring you to pay a certain amount each month for the agreement length.
The other big difference between a payday loan and bad credit loan is the interest rate. A loan for bad credit usually charges between 6 and 36 percent interest. A payday loan can run upwards of 200 percent interest, with you likely having to pay between $10 and $20 per $100 borrowed.
ARE BAD CREDIT LOANS SAFE?
As with any lender, you want to be sure they are a reputable lender, preferably with a license and good reviews. You should never have to make a payment up front to a lender, so if they ask, it may be a scammer. Many bad credit loans are safe, but always do your research before applying for one.
ARE BAD CREDIT LOANS GOOD FOR EMERGENCIES?
In a perfect world, you'd have an emergency fund in your savings account. However, we all know the world is not perfect. If you're in need of some fast cash because of an emergency, a personal loan may be a great option. At the same time, a payday loan may be a good option too, if you only need say, between $100 and $500.
CAN I CONSOLIDATE LOANS?
You can consolidate your unsecured debts, which means any student loans, credit cards, or medical bills.
Online Bad Credit Loan Calculator: Calculate Your Loan Payment RIGHT NOW!
calculator
Loan Payments Calculator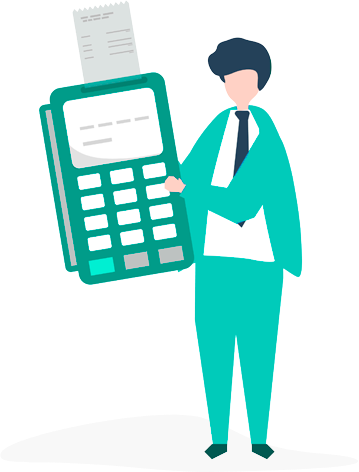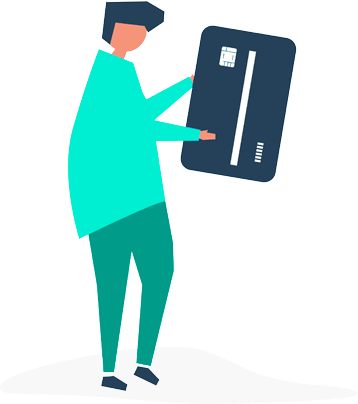 money loan