Are you thinking of taking out a loan to help cover expenses or make a big purchase? Then there's a lot of information that you need to understand before you make any decisions. Whether you are thinking of taking out a small loan, or a large one, you always want to get the best deal possible. That means getting a loan with the lowest interest rate and fees. But, how do you do that? What factors go into a lender's decision-making process when they are going over your loan application? These are just a few of the questions that you need to be able to answer before you take out any loan. The following guide will give you an in-depth look at different types of loans, how lending decisions are made, and what you can do to get the best loan terms.
What Is A Loan?
Do you want to get a loan? Then the first thing you need to understand is exactly what a loan is.
A loan is money that is provided to a person or a business by another entity that must be paid back, usually with interest added to the principal amount borrowed. Loans can be short-term or long-term, and they can be for a small amount of money or for a large amount of money. Many lenders use credit when making lending decisions, but there are options such as payday loans that don't utilize credit. There are also secured loans, which require collateral, as well as unsecured loans that don't.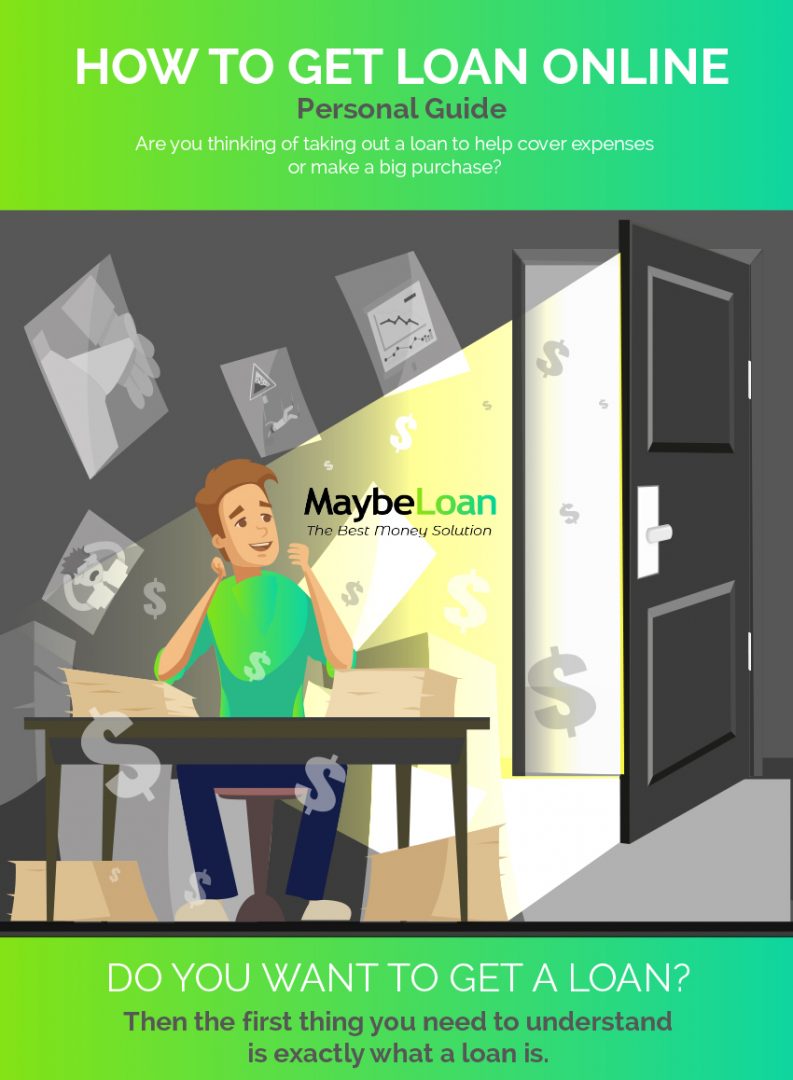 How Do Loans Work?
The first step in obtaining a loan is applying for it. Loans are issued by mortgage companies, banks, payday lenders, title loan lenders, pawnshops, and various other financial institutions. When applying for a loan you'll have to meet whatever criteria the lender deems necessary in order to qualify for a loan with them. For most lenders that means having good credit. For lenders that utilize credit when making lending decisions the better your credit score, the better the interest rate you will receive. Other lends, like payday loan companies, don't use credit when making lending decisions. Instead, they require you to have a checking account in good standing, and proof of income. After applying for and being approved for a loan you'll receive the money you borrowed and will have to make payments until the principal is paid off. Don't forget that you'll end up paying back more money than you borrow since the financial institution lending you money will charge interest.
What Can You Use A Loan For?
Unless a loan is specified to be used for something in the lending agreement, you can use a loan for anything you want to use it for. That doesn't mean you should take out a loan and go and spend the money recklessly. You have to pay the loan back, so if you spend the money carelessly you'll probably end up regretting it. What are some of the more common things that people use loans for? People use loans to buy a home, buy a car, pay for goods or services, or to help cover their expenses until their next payday.
Advantages And Disadvantages Of Getting A Loan Online
Today, people have two options when they need a loan. They can apply in person, or they can apply online. That's right, you can get money loans online. There are many online loan lenders that are more than happy to provide you with the loan that you need, provided that you meet their requirements. But, before you make a final decision and sign any documents make sure that you look around a little to ensure that you are choosing from the best online loans. You always want to get a loan with the best terms and fees because it will end up saving you money. Once you have found the best deal then you can rest assured since you can get a real loan online to help cover your expenses or make a purchase.
Advantages
Good for long term borrowing. If you are applying for a mortgage or car loan applying for an online loan will benefit you since you'll be able to upload all of your documents and get approved in advance.
Applying for a long term loan online will let you look at interest rates up front and choose a fixed rate that will save you money.
You can borrow a lot of money. Online lenders today are willing to loan you just as much, if not more money, than banks and other traditional lenders.
With an online loan, you can often have your loan funded in 48 hours or less, saving you money. Being able to apply for quick loans online is a major benefit since most people don't have time to sit around and wait for their loan to be funded.
Disadvantages
Some online lenders charge you a penalty for paying the loan back early.
Some online lenders require you to put assets up as collateral as protection for them in case you were to default on the loan.
Online lenders often have an inflexible payment schedule requiring you to make payments on their terms.
For lenders that utilize credit as a deciding factor, you need to have a great credit score to get the best interest rates.
What Type Of Loans Are There?
Payday Loans. Payday loans are short-term loans that usually don't require a credit check. Payday loans charge higher interest rates than most other types of loans, and they usually have to be paid in full on your next payday. If you have an emergency and don't have the money to pay for that emergency and still cover your other bills, a payday loan could be a solution for you.
Home equity loans. Home equity loans allow homeowners to unlock the equity in their home and use it to pay for home improvements, debt consolidation, or for any other type of need they may have. Home equity loans can granted as a home equity line of credit where the homeowner has access to additional funds as needed. They can be issued as a second mortgage where the homeowner will make their original mortgage payment as well as a new second mortgage payment. Or, they can be issued as a mortgage that pays off your current mortgage, then some of the equity in the home is converted to cash that the homeowner can use however they see fit.
Student loans. Student loans are loans that people take out to help cover the cost of their education. One important thing to keep in mind about student loans is the fact that they generally cannot be discharged if you file for bankruptcy.
Debt consolidation loans. Debt consolidation loans are taken out to allow people to pay off multiple debts that have multiple payments, then they only have to make a single loan payment instead of many. In most cases, the consolidated payment is less than the combined total of the smaller payments being consolidated, but the term of the loan if frequently longer as well. Credit cards are one of the most common types of debts that debt consolidation loans are used to pay off.
Mortgage loans. Mortgage loans are taken out when someone wants to buy real estate but lacks enough cash to pay for their purchase outright. Mortgages are long-term loans that are typically for 30 or 40 years.
Loans for a car. When most people buy a new car they don't pay cash for it, they finance it. Car loans usually have a repayment period of 4 or 5 years.
Personal loans. A personal loan is a loan that is given to a person that can then use the money in any way that they see fit.
Loans for Veterans. There are many types of loans available to Veterans that give them favorable terms as a way of thanking them for their service. These include personal loans as well as mortgages.
Bridge loans. Bridge loans are so named because they are meant to bridge the gap between the purchase of something, usually real estate, to a time when permanent financing can be secured.
Business loans. Business loans are used to provide financing to businesses and to ensure that they have enough working capital to continue normal operations. Business loans are often used to help fund improvements to a business or to help cover a period of time when revenue is down. Commercial loans are an important part of the financial framework that society runs out and helps to keep businesses solvent when their cash reserves may be running low.
Cash advance loans. One of the most common types of cash advance loans is a loan that is provided by an employer to an employee. They will give them an advance on their salary, sometimes they charge a fee to do so, other times they do not. Another common type of cash advance loan is a credit card that can be used to take cash out until the card holder's credit limit has been reached.
Conventional loans. Conventional loans are mortgages that are not secured or guaranteed by any government agency.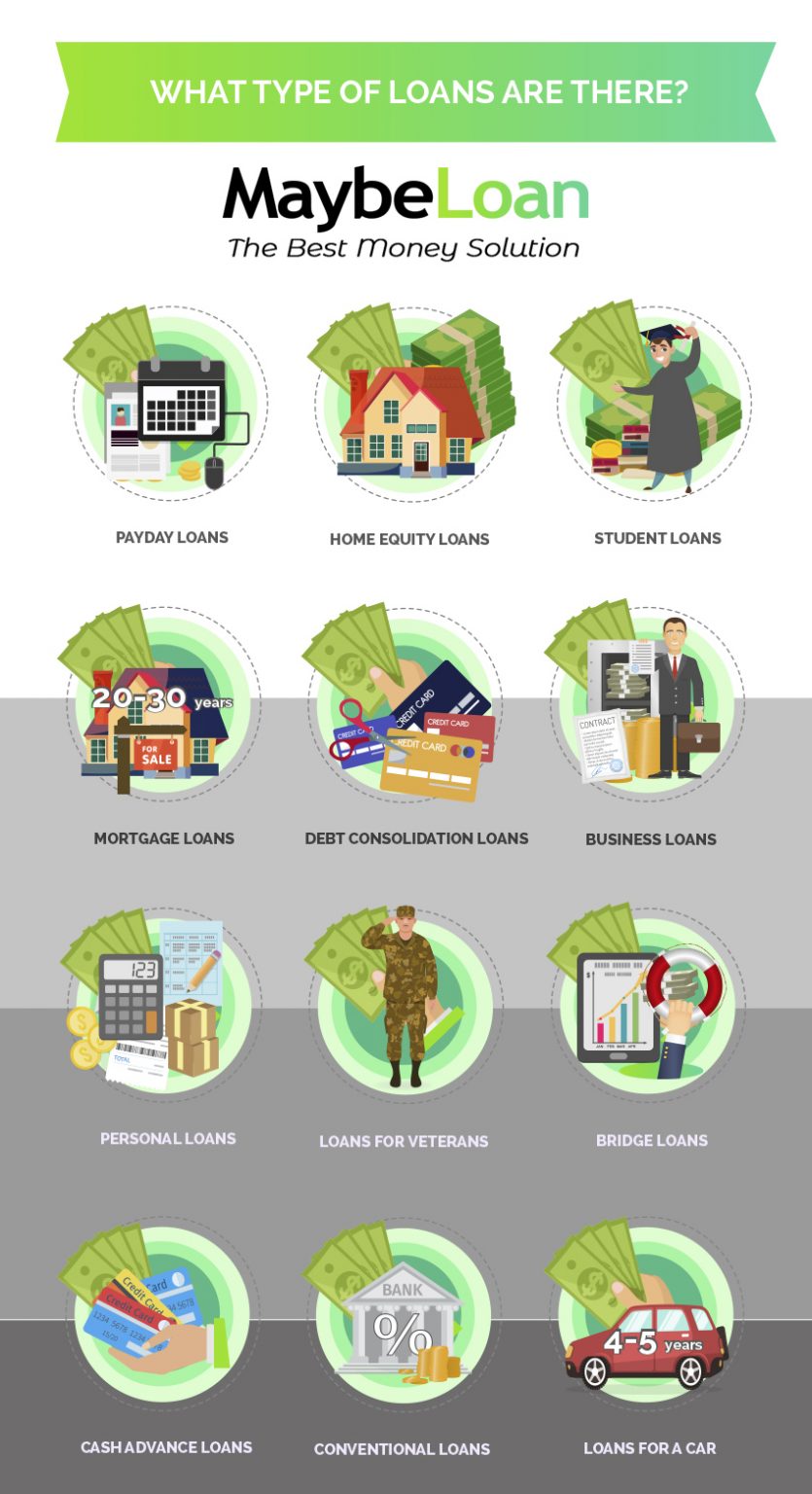 Who Can Get A Loan Online: Basic Requirements
In order to apply for a loan, you have to be a legal adult, which means 18 years of age in most areas.
To be approved for a loan you'll need a permanent address.
Most lenders look at your credit score when determining whether or not to offer you a loan, and also when determining the interest rate you will pay and whatever other fees they feel they need to include in the loan. If you have bad credit traditional lenders will either turn you down or charge you a high-interest rate. If you have good credit then you'll get a lower interest rate, which means lower monthly payments as well as a lower total amount paid back during your repayment period. The exception to lenders that use credit to make decisions is payday loan companies. They require you to have a checking account in good standing and proof of income instead of using your credit.
What documents do you need to get a loan? That depends on the type of loan you are applying for. Typically you'll need a government I.D. to verify who you are, proof of income, a social security card, a bank statement, and sometimes a copy of your taxes.
Can you get a loan? Check now!
What Do You Need To Qualify For A Loan?
If you want to apply for a loan you'll have to meet certain qualifications. No lender is going to just hand you money when you ask for it. You'll need to show proof of income so they know that you'll be able to follow the repayment schedule that you are giving. What qualification do you need to get approved for a loan?
Employment and income information. When you are approved for a loan the financial institution that approves the loan does so because they feel you will be able to make your payments. That means that you need to provide them with proof of income. Lenders will need to see how much money you make so they can determine what kind of monthly payment you can afford. For people that are self-employed, getting a loan can be more difficult because they don't have the security of paycheck from an employer. Fortunately, many lenders will work with self-employed people if they can provide copies of their tax return showing that they have a stable income.
Bank account information and bank statements. When applying for a loan don't be surprised if the lender requests copies of your bank statements. They want to see that you have a bank account in good standing and that you have responsible spending habits.
Your credit report. When you apply for a loan from most traditional lenders they are going to run your credit report. Your credit report will give a lender your credit score, let them see any loans you have or have applied for, and show them your payment history. A good credit report will mean a better interest rate, a bad credit report will either mean having your loan denied, or being charged a higher interest rate.
Collateral. In some cases with some types of loans, a lender will require collateral. What is collateral? Collateral is personal property that you use as a guarantee for your loan. If you fail to make your payments and default on your loan then your lender will have the legal right to claim your collateral in lieu of payment. The good news is that putting up collateral makes it more likely that a lender will loan you a significant amount of money. The other good news is that there are guaranty loans online, so just because you are putting up collateral that doesn't mean that you have to drive to a bank or other lender.
Identification. When a lender is giving you money they are doing so because they expect that you will pay them back. They make their money when you pay them back plus interest. So, it shouldn't be surprising that you'll need to provide identification, often multiple forms of identification, to be approved for a loan.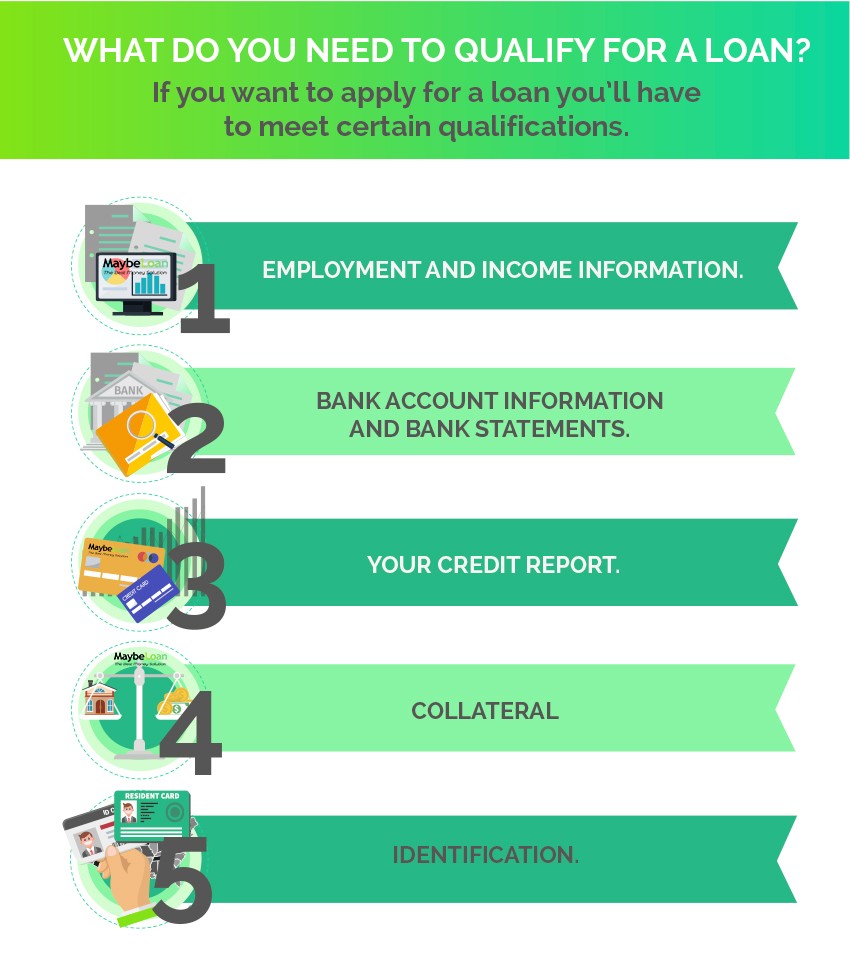 Where Can You Get A Loan?
Online direct lenders. Online direct lenders are lenders that provide financing directly to a person or company without a middleman mediating the process. With online direct lenders, you fill out an application with them, provide whatever documents that they require, then they make a decision. Since they are loaning you the money they don't have to get a third party to approve the loan, which means that you'll normally get your loan funded quickly.
Peer-to-peer lenders. Peer-to-peer lending is becoming increasingly popular for both lenders and borrowing. In peer-to-peer lending, there is normally a company that mediates the process as one individual loans money to another. The draw for lenders is the ability to earn a better return than they do from a savings account. The draw for borrowers is being able to borrow money at an interest rate that is often lower than what banks offer.
Banks and credit unions. Banks and credit unions are two of the most common financial institutions that lend money to people and businesses. To qualify for a loan you'll usually need to have an account with the bank or credit union you are applying with, and you'll have to meet their credit score and income requirements.
The government. The government offers many different types of loans that are designed to offer a helping hand to people. Some examples are government-guaranteed student loans, mortgages, and small business loans.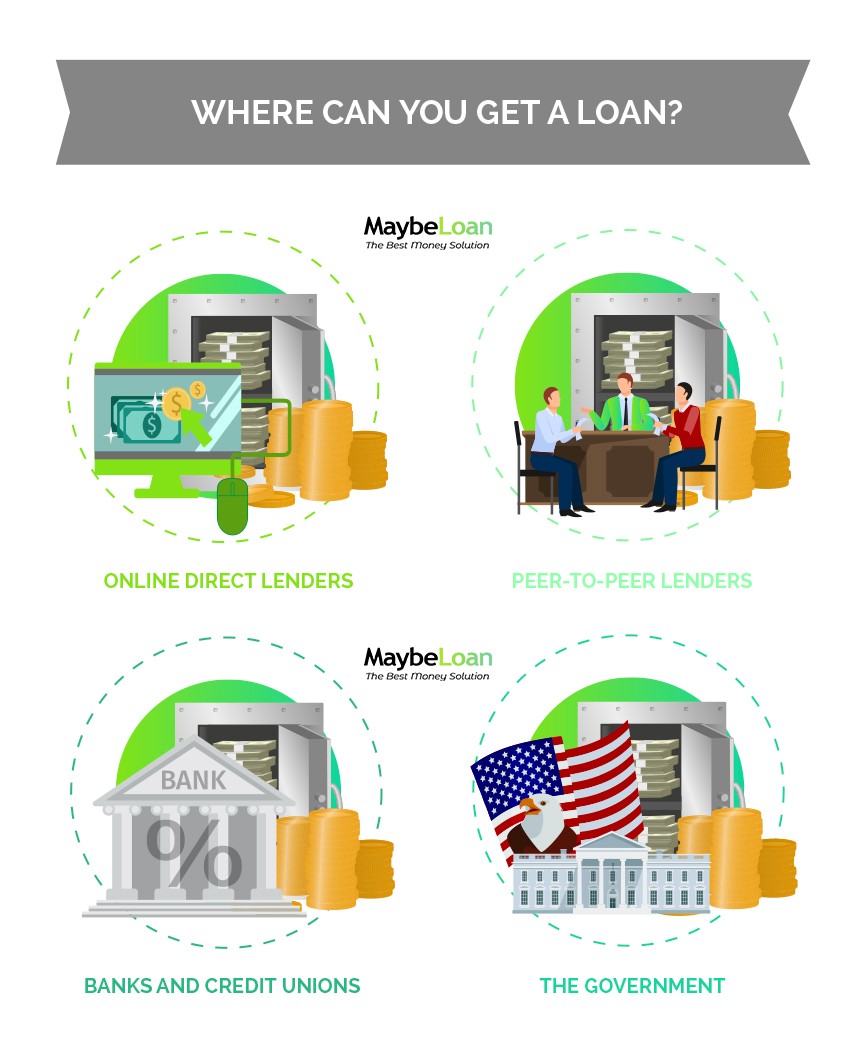 Getting A Loan: Tips For Applying For A Loan
How To Get A Personal Loan
If you want to get a personal loan there's no need to be intimidated by the process. Almost every lender is going to look or the same things when you apply for a personal loan with them. First, they'll look at your credit. Then, they'll look at your income. If you meet their requirements they'll offer a loan. If you don't meet their requirements they may offer you a smaller loan, or they may offer you a loan if you are willing to put up collateral to get the loan. The best piece of advice you can follow if you want to get approved for any type of loan is to maintain a great credit score. That means not taking on too much debt, and making your payments on time.
How To Get A Student Loan
If you are interested in improving your life then going to college is a great way to do that. Some people are able to obtain grants and scholarships that cover the cost of their education, but many others are not able to do so. That means taking out a loan. When taking out student loans don't look at them as an expense, look at them as an investment into your future. How do you apply for a student loan? You can apply through your bank by taking out a personal loan. Or, you can fill out a Free Application For Federal Student Aid, FAFSA for short, and see what types of government-guaranteed loans you may qualify for. The good thing about filling out a FAFSA form is that you will also be eligible for different grants that can help to pay for your education.
How To Get A Loan If You Don't Have A Job
Can you get a loan if you don't currently have a job? You can, but the caveat here is that you still need to show proof of income. Without income repayment of the loan will be impossible. But, if you don't have a job then how can you show income? You can show income if you are earning money through other means on a monthly basis if the money you earned can be considered a steady income. Examples of this include social security payments, a pension, or a government annuity.
Loan FAQs
HOW CAN YOU GET A LOAN WITH A BAD CREDIT HISTORY?
Having bad credit definitely makes getting a loan more challenging, but it's far from impossible. You have several options, but you should know in advance that you'll end up paying a higher interest rate than someone with good credit would. One option is to put up collateral to guarantee your loan. You could also have someone co-sign your loan. When someone co-signs your loan they are making a binding legal promise to pay the loan back if you default on it. The final option is to take out a loan from a lender that doesn't use credit, like a payday loan company.
HOW WILL I GET MY LOAN?
That depends on the lender and what options they offer. Many lenders will offer an electronic deposit into your checking account, but paper checks are still issued frequently as well.
HOW OFTEN CAN I BORROW MONEY AS A LOAN?
There's no hard upper limit to the number of loans you can take out at once. But, the more money you borrow the more it will impact your credit score. In fact, just applying for a loan will lower your credit. So, while you can borrow money as often as you want to, most lenders will shy away from loaning someone money that already has multiple loans in their name.
WHERE CAN I GET A SMALL LOAN?
You can get a small loan from a peer-to-peer lender, bank, or a payday loan company.
WHERE'S THE BEST PLACE TO GET A LOAN?
The most convenient place to get a loan today is online. Why spend time driving to a bank when you can fill out an application online then upload whatever documents they require? Many payday loan companies offer online loans as well. No matter what type of loan you need, applying online will let you compare offers and choose the best one for you.
IS IT HARDER TO GET A LOAN WHEN YOU ARE YOUNG?
In a word, yes. But, age has nothing to do with it being more difficult to get a loan. What limits you in terms of borrowing money when you are young is a lack of credit history. Lower-income is often an issue as well since many young people are still trying to establish themselves professionally and aren't making a lot of money yet. Fortunately, there are options. Young people are often approved for loans by payday lenders who aren't concerned with credit history.
HOW CAN YOU GET A LOAN WITHOUT DOCUMENTS?
The only type of loan that you can usually get without providing documents is a payday loan. With a payday loan, you will have to show proof of income and proof of a checking account in good standing.
HOW LONG DO YOU GET TO PAY A LOAN BACK?
That depends on the type of loan you take out. For example, mortgages are usually paid back over a course of 30 years or more. On the other hand, payday loans are usually due to be paid in full when you get your next paycheck.
HOW MUCH CAN YOU BORROW FOR A LOAN?
That depends on your income and with most loans your credit as well. The more money you make, and the better your credit score, the more money that you'll be able to borrow.
Online Loan Calculator
calculator
Loan Payments Calculator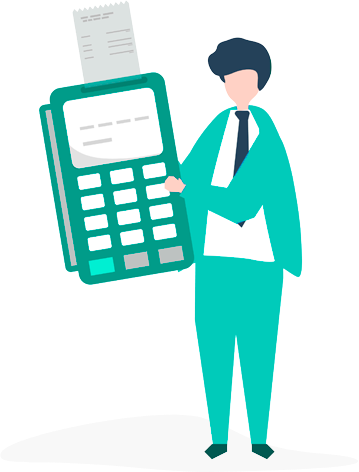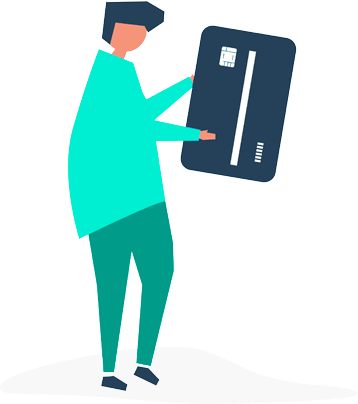 money loan
Making A Smart Decision When Applying For A Loan Can Save You A Lot Of Money

Getting a loan means making a financial commitment that you are legally bound to repay the money you are borrowing. That's why it's so important that you make a smart decision when borrowing money. Even if you are only getting a short-term loan like a payday loan, you still need to make intelligent choices in what type of loan you take out, how much you borrow, and what you use the money for. By taking the time to look at your options, compare loans, and ensure you can make your payments on time, you can make sure that the loan you are taking out today won't become a problem you struggle to deal with tomorrow.

Please rate the article: