You know how devastating one financial emergency can be for you and your family. Especially, if you live from paycheck to paycheck, with no savings.
In fact, research shows 46% of Americans don't have enough cash to cover a $400 expense. Unfortunately, 50% of Americans' credit score is below the coveted 680 mark, which means most banks won't extend credit.
This leaves many people unprepared for unexpected emergencies.
Thankfully, you have the option of applying for an instant loan online.
Gone are the days when we queued at the banking hall with a pile of documents to get a loan approval after 3 weeks of applying for it.
No wonder, instant loans are becoming more popular.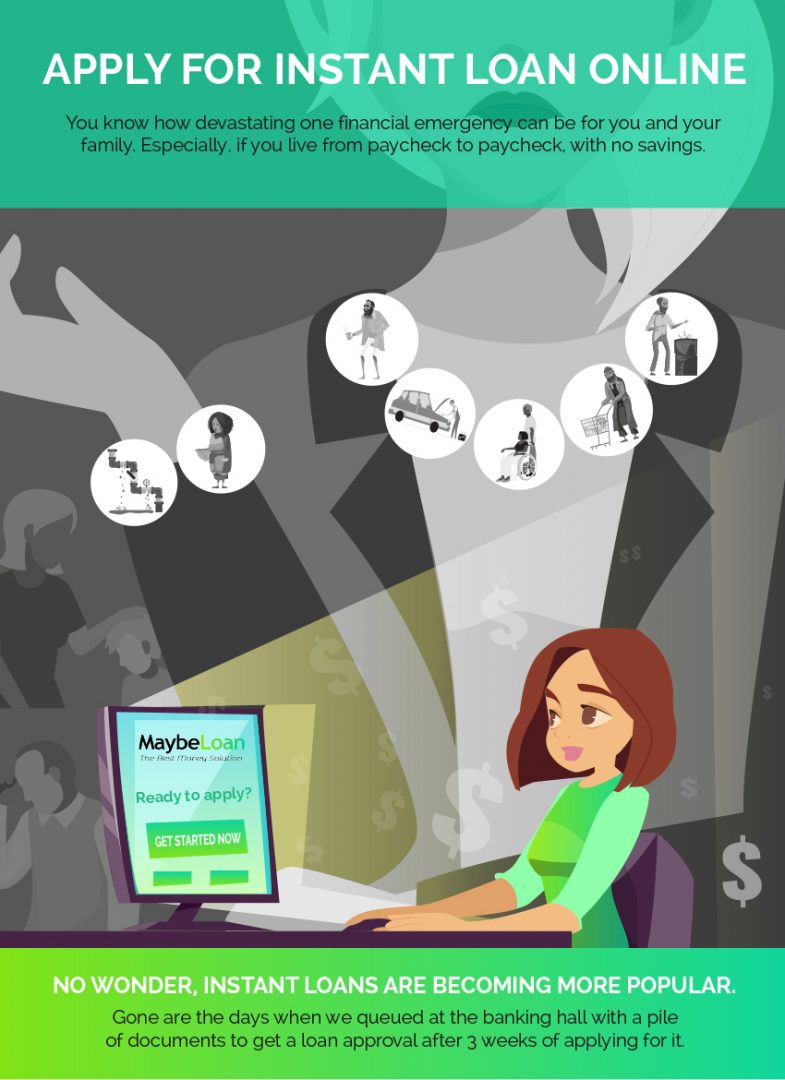 Features and benefits of instant loan
Convenience – You can literally do everything from the lender's website or mobile app from filling the online form, uploading documents to loan approval without having to leave your house.
EMI online calculator – You get a personalized loan quote. All you have to do is to feed in your loan amount, income, and current EMIs (if any). The results you get are accurate and transparent.
No-risk estimates: You can pre-qualify and see estimated rates without committing to a loan.
Easy pre-qualification: Comparison sites allow you to see loan offers from multiple lenders after filling out a single application form.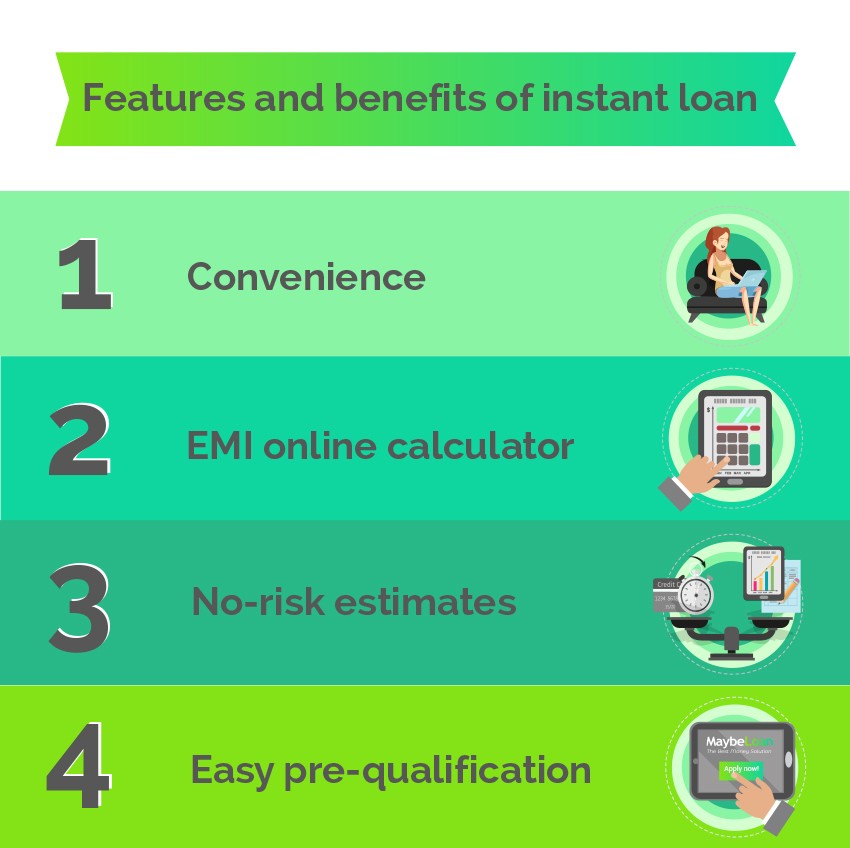 How do quick loans work
With digitization, getting a loan online is now more convenient than ever.
Fast loans online are more popular because of paperless transactions and the fast application process.
If you need a loan instantly, a quick loan can be your savior. The apps are accessible, 24/7 online as long as you have a smartphone and a working internet connection. Your online loan will get approved on the same day of application.
And here's why.
The approval process is fast because of the following reasons
Fewer background checks
Use of online applications and forms
Loan approval despite the applicant's credit score.
So if you need a quick loan, what do you need to apply?
We'll look at that next.
Factors on which loan eligibility depends
It's critical to be aware of your online loan application eligibility details as it will simplify and quicken your application process.
Each online loan lender has separate minimum criteria for age, income, employment, job status, etc.
You will need to meet these criteria to get a loan online. The general requirements and limits are outlined below:
Age

Above 18 – 60 years.

Some states' minimum age requirement is as high as 21 years.

Income

$20,000 per year or less for individuals and $50,000 or more for business borrowers

Employment

Salaried, Business owner, Self-employed professional, Retired, Student, and Homemaker.

Credit Rating / CIBIL Score

Above 650 credit history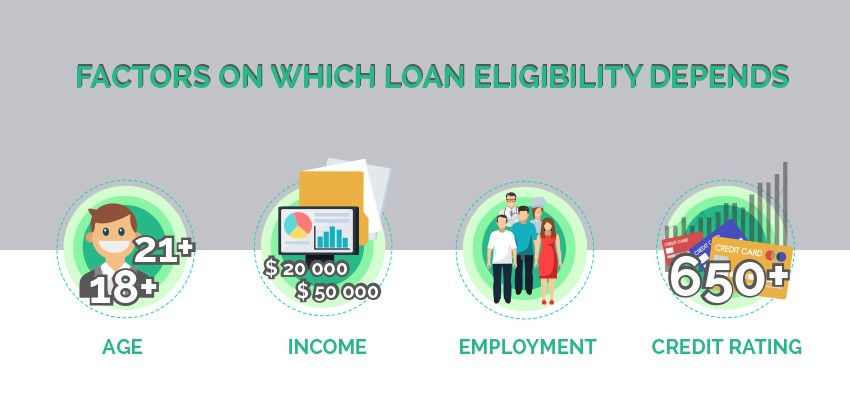 Documents required for loan
You need the following documents to submit to the lender for a quick loan.
Proof of Residence – Telephone Bill / Electricity Bill / Voters Card.
Proof of Identity – Voters Card / Drivers License / Employers Card.
Latest Bank Statement / Passbook (where salary/income is credited for the past 6 months).
8 Factors affecting your personal loan interest rate
Naturally, you'll want to look for online lenders offering competitive terms and favorable interest rates. Use an aggregator like Credible which provides you with rates from multiple lenders in just minutes.
Other factors that affect your personal loan rates are;
Lender – Lenders cater to different types of borrowers; prime, super-prime, sub-prime, and below prime. The interest rate for below prime borrowers is usually higher than that of prime borrowers.
Credit Score – It's the most important factor in determining your personal loan rate. Your repayment history, credit utilization, credit history length, credit mix, and new credit determine your credit score. Generally, the higher your credit score, the lower your interest rate.
For example, super-prime borrowers with a score of between 740 and 850 can expect rates within 3%-5%. While subprime with a credit score of below 619 can expect a rate of above 22% -35% range.
Debt-to-Income ratio – It's the sum of your debt obligations divided by your gross income. For example, is your debt service payment is $3000 per month and your gross monthly income is $6,000, then your debt-income ratio is 50%.
Most lenders prefer debt to income ratio at or below 43%. Personal loan providers vary but always prefer a lower rate.
Your income & employment status – Lenders prefer a borrower with stable employment and ample income. They also want a minimum of 24 months of employment history or more. High-income borrowers attract the best rates in the market.
Education levels – Some lenders assume younger borrowers with professional degrees have good job prospects. They think the borrower is well-positioned to assume new debt even if their credit history is spotty at the moment.
Loan terms & Principle – Longer term loans (5-7 years) tend to have higher rates compared to shorter-term rates (1-3 years).
High principle loans entail more risk hence attract a higher interest rate.
Collateral – Secured loans attract lower rates compared to unsecured loans. Most personal loans are unsecured.
Benchmark rates – Personal loan providers adjust their rates, responding to changes in the underlying benchmark rates. Central banks set their benchmark rates considering factors such as inflation rates and expected economic growth.
As you shop around for the best possible personal loan rate, check with as many lenders as possible. You'll be surprised to find a great deal of hiding in plain sight.
When to avoid instant loans
A quick loan may seem like the only option in a financial emergency, especially if you have an emergency, have poor credit and no savings.
But they can also put you into more trouble than good.
Here's when to avoid them.
When the loan is unaffordable – Use the online loan calculator to determine what you can afford. Factor in your budget, your loan installment to get a realistic monthly payment you can make on your instant loan.
When the interest rate is too high – With digitization, you can almost find all the information you need at your fingertips. Shop around for a lender with the lowest interest rates. You will always find a good deal on the loan you need.
When it's not an emergency – refrain from taking instant loans for things that aren't critical for survival. Create a priority list to differentiate your needs, instead find cheaper alternative sources of money.
When you can't pay it off fast – Only take loans you can pay off before or on the due date. Rolling over your loan because you can't pay will cost you an arm and a leg.
These tips will help you ensure you only take an instant loan you need and the ability to pay within its duration. You will avoid getting caught up by the nefarious online lenders who are simply trying to rip you off.
How to apply for a quick loan
So, how do you apply for a real loan online?
Follow these simple steps.
Download one of the quick loan apps available on your smartphone.
Register with the lender by entering your basic details such as name, phone number, bank details, and address.
Enter desired loan details such as the amount and the duration.
Submit recent and valid documents
After you have submitted the relevant details and documents, the app will review your request.
If your application is successful, the loan amount will be transferred to your bank account.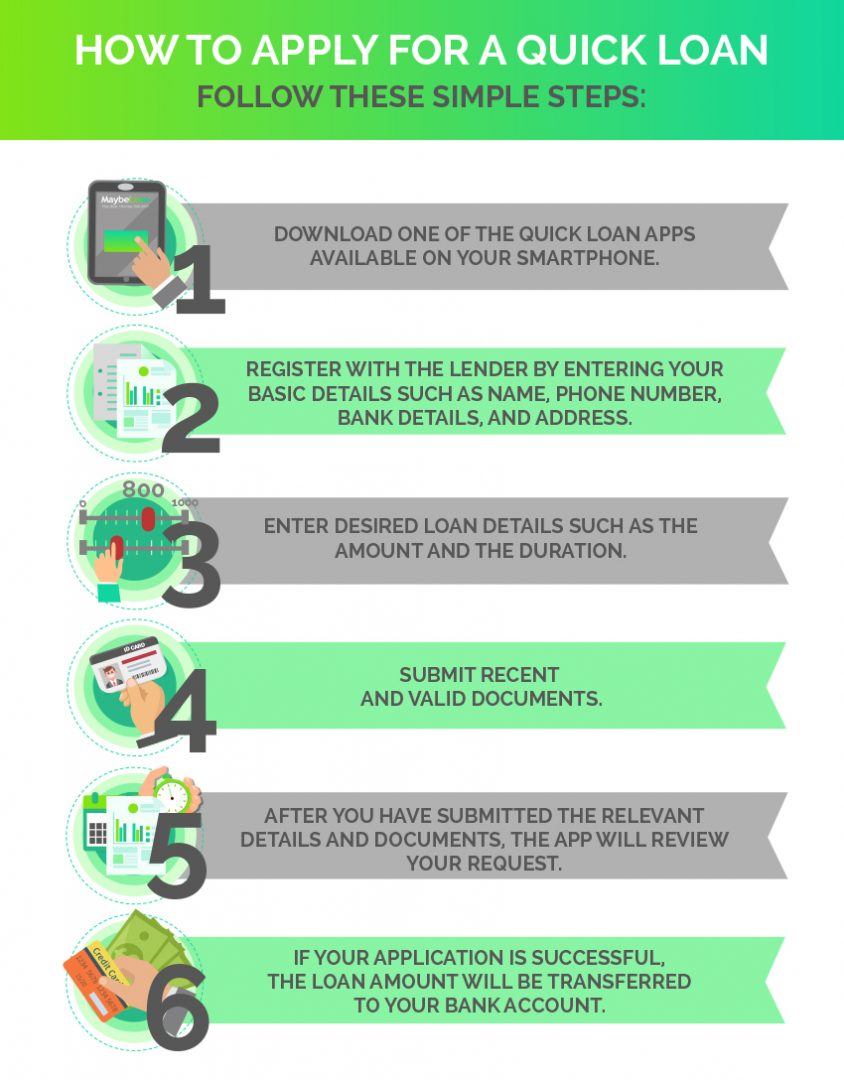 Conclusion

Online loan lenders make it easy for you to get the money you need even as little as $100 or up to $1000.

Isn't that great when you realize you have to pay a bill quickly to avoid late fees.

However, always borrow what you can pay on time, since missing a payment can affect your credit score.

Please rate the article: