It's a familiar story, and it usually goes like this.
Its mid-month, and you've maxed out financially. You have groceries to buy and utility bills to pay. Your mind is endlessly spinning as you try to figure a way out.
Where do you find the flashlight in this dark cave?
Keep calm because help is on the way. In this post, we will talk about instant payday loans.
We will dig deeper into what they are, the advantages and disadvantages, and eventually how to apply.
Let's get started.
What are instant payday loans?
This is a short-term borrowing that helps you get out of a tight spot, such as a medical emergency or a car breakdown. Instant payday loans are not instant per se, but when compared to securing credit from banks, they are incredibly fast.
In that sense, this is what instant means. If you make an application either through a store or online, then you can get the funds swiftly.
And this brings us to…
When should you apply for an instant payday loan?
It's wise to apply for an instant payday loan when you have an urgent need, such as paying for utilities before you receive your paycheck. On the contrary, it's not advisable to use it to cater to long-term commitments such as clearing your credit card debt because of the high-interest rates. Such a move can push you deeper into debt.
So, what does it take to qualify for an instant payday loan?
Requirements for instant payday loans
Every lender has a set of eligibility requirements to be able to qualify for a loan. These are the mainstream qualifications:
A Government-issued ID
At least 18yrs of age
Be a resident of the state that the payday loan is being offered
An active bank account
Proof of income
A word of caution, though:
Precautions when taking an instant payday loan
The Lender
Do your homework – Please do your research on a lender before committing to them. If they have a social media presence, you can check the reviews, and if complaints are commonplace, then that is a red flag.
Read the small print– Make sure you know the loan terms and fees and also what would happen if you're not able to make a repayment because sometimes life happens.
Asking for an upfront fee? Run – Never pay anything upfront before a lender deposits funds even if they say it's for covering interest costs. In the case of an online lender, don't wire them any money before receiving your loan because if worse comes to worst, it's hard to trace wired cash.
Whom do you run to? – If you have a complaint or maybe you feel like the lender didn't keep their word, make sure you know the necessary authorities to approach.
Lending Time
Some lenders manage same-day only for a certain fee and if you send in your application by a certain time (i.e 3 PM PST). It may also take several hours to receive the funds. But in some rare cases, it may take one hour depending on the lender and the time of your application.
MaybeLoan is available 24/7 ready to receive your application, and it takes as little as 5 minutes. Your application will obtain fast approval in a minute from over 150 multiple lenders.
You should be able to receive your money by the next business day.
Approval Rate
Most instant payday loan lenders have an approval rate of 97% if you meet all the requirements. Its because the 3% are those whose applications have small errors such as;  omissions, spelling mistakes on the application form, or failure to submit all the required documents.
Always make sure you fill your loan application correctly, to enjoy the fast turn around time. Otherwise, no lender should take longer especially when you've done everything correctly from your end.
Safeguard your documents
Make sure you safely keep any documentation such as clearance papers that show you no longer owe a lender. It's common for scammers to take advantage and start making claims on an already paid debt. In other cases, an error can happen, and within no time, a collection agency is on your neck. The only way to prevent such scenarios is by safely keeping your loan documents.
Restrain your loan appetite
Just borrow what you can comfortably pay. No matter how convincing the lender is, resist rolling over your loan because that means extra charges compounded by the high-interest rates.
Do you know the law on payday loans?
Each state has different laws governing payday loans, so it's essential to familiarize yourself with them. You get to know what your rights are, and also what is expected of the lender such as interest caps.
The lender is also supposed to disclose specific information such as the loan fees and interest to be charged.
Let's now have a look at the advantages of fast payday loans.
Benefits of an instant online loan
As the name suggests, there are positives of taking an instant online loan. Here they are:
Fast response and instant loan turnaround times
Easy application – When faced with an emergency, you don't have the luxury of time, and what you need is fast cash. With an online application that takes only a few minutes, you can have the money within a short time.
Speedy process – Seeking credit from banks can be time-consuming due to their application process. On the other hand, online loan lenders have systems that allow for quick turnarounds on your loans. If you meet their requirements, then nothing can stop them from sending you the money.
High approval rates
Lenient requirements – Traditional lenders such as banks have to do hard checks on you to ascertain your creditworthiness. As a result, it becomes difficult for you to secure a loan if you have a poor credit score.
Payday loan lenders, on the other hand, administer a soft check such as proof of income, and if you meet their criteria, then they lend you the money.
Flexible loans and repayment
You may want to pay extra, pay less, or take a break towards your loan. Some payday loan lenders allow this kind of flexibility.
Early Repayments – The lender allows you to pay off your outstanding loan balance before the due date. Some lenders allow you to pay at a fee while others don't.
Overpayment – You might get a windfall and wish to clear your loan balance or pay extra. Extra payments reduce the amount you would pay on interest and clear your balance faster.
Payment Holidays – Some lenders allow you to take a break from your loan repayment for a set period of time. It could either be due to a sudden loss of income, sickness that limits your ability to work or repay your loan, or any kind of misfortune. However, please note that the lender will still charge interest on the balance while you take a break from repayments.
Requirements for your credit score
Quickest payday loan lenders don't have to check your traditional credit score to be able to offer you a loan. You still though have to meet their requirements before you can qualify for credit.
And finally…
How to take out an instant payday loan
To safeguard the interests of its citizens, some states have limits on how much one can borrow and the number of loans you can take due to the high-interest rates.
So, if you decide to take an instant payday loan, here's the process:
Choose the loan amount – You state the money you plan to borrow.
Provide personal details – This includes bank account details, proof of income, and any other information the lender wants.
Receive your money– After a successful application, the lender disburses the loan to your bank account.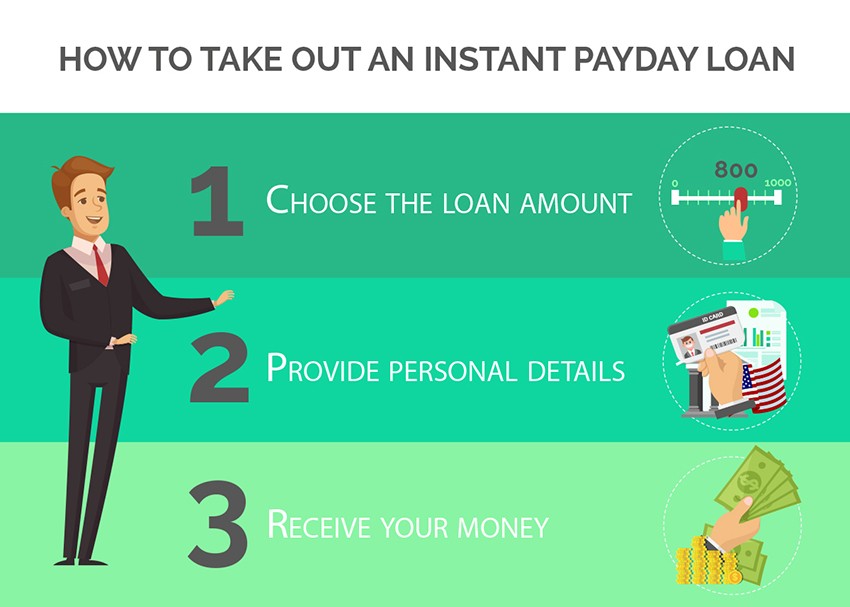 So, what does all this mean?

In life, one thing that we are sure of is emergencies. They will come unannounced and throw you off balance.

The good news is…

In this post, we have covered on instant payday loans to help ease your financial burden and safely navigate the uncertainties.

Please rate the article: